Nature-based Solutions for urban climate resilience in South Asia: Case studies from Bangladesh, India and Nepal
Nature-based Solutions for urban climate resilience in South Asia: Case studies from Bangladesh, India and Nepal
Share this:
Resource detail:
Tags:
nature-based solutions
Climate change and human activities have exacerbated biodiversity loss and severely affected the overall health of the world's ecosystems. Technological solutions, which are often lauded as multipurpose solutions, are limited in their effectiveness and often do not offer sustainable outcomes. Nature-based Solutions (NbS) are fast receiving recognition as holistic and integrated alternatives.
The International Union for Conservation of Nature (IUCN) defines NbS as "actions to protect, sustainably manage, and restore natural or modified ecosystems, that address societal challenges effectively and adaptively, simultaneously providing human well-being and biodiversity benefits".
Additionally, NbS provide sustainable solutions for communities and help reduce vulnerability to the effects of climate change and other environmental threats.
Recognising the need to address the negative impacts of rapid and unplanned urbanisation, many cities around the world have started implementing NbS to ensure long-term sustainable urban development and resilience to extreme climate events.
In South Asia, although the concept is gaining ground, it is still relatively unexplored, especially in urban areas. Several hurdles exist when it comes to mainstreaming NbS, the most significant being limited policy and legal mechanisms that integrate NbS into governance.
Concrete examples of how cities in Bangladesh, India and Nepal are implementing NbS
This compendium showcases NbS implemented in urban areas in India, Bangladesh, and Nepal. 15 case studies are shared and have been arranged according to the IUCN categorisation of NbS approaches.
In each case study, the following is highlighted:
how the initiative was implemented;
the factors that led to success; and
essential elements for replicating and scaling the initiative.
Focus of the case studies shared in the compendium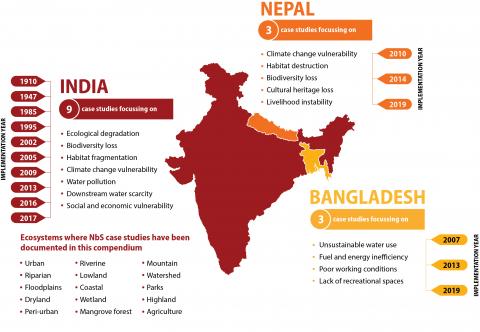 Who should use this compendium?
This compendium will be useful for governments at all levels and is intended to support key actors and institutions to plan, implement, replicate and scale NbS. The learnings from each case study will also be helpful for practitioners, NGOs, civil society and academics to better understand how to implement NbS projects and programmes.
Download the compendium here.
Comments