Our mission
The Climate and Development Knowledge Network aims to advance gender-equitable and socially-inclusive climate-resilient action by mobilising knowledge-into-action, capacity and Southern climate leadership from local to global levels.
We work with the public, private and non-governmental sectors in support of locally-owned and -led climate-resilient action.
About CDKN
CDKN is a Southern-led network founded in 2010. It is managed by SouthSouthNorth, and implemented in partnership with Fundación Futuro Latinoamericano (FFLA) in Quito, Ecuador and ICLEI South Asia in ​​Delhi, India.
A new five year phase (2022-2027) is focusing on accelerating equitable, financed and ecosystem-based action on climate change that is locally-led and strengthens the voice and climate leadership of disadvantaged groups at community level.
How we are funded
CDKN is co-funded by the Ministry of Foreign Affairs of the Netherlands and Canada's International Development Research Centre (IDRC) through the Step Change Initiative, which aims to accelerate equitable and inclusive locally-led adaptation. If your organisation or programme would like to explore opportunities to collaborate with CDKN, please contact us at cdkn@southsouthnorth.org.
How we work
CDKN focusses on moving knowledge into increased action on climate change.
Image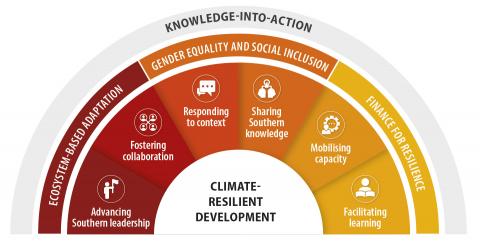 Photo: CDKN
CDKN's approach:
producing and sharing relevant knowledge to drive action, weaving diverse forms of knowledge – including local, Indigenous and scientific knowledge – building collective understandings of climate impacts to co-create and apply solutions;
advancing Southern leadership and locally-led climate action;
responding to local contexts by understanding and working with  the socioeconomic, cultural and political decision-making circumstances;
fostering collaboration through long-term relationships built on trust, working across sectors and scales to achieve systemic change;
mobilising and strengthening the capacity of individuals and institutions to harness the rich knowledge and expertise that exists in the global South including at local levels; and 
facilitating continual learning to reflect on emerging lessons and insights in tackling the climate crisis.
Independent Evaluation
Read the CDKN evaluation of the Knowledge Accelerator programme, 2018-2021.
To read independent reviews of CDKN's previous phase of work from 2010-2017, please visit our Independent Evaluations page.