Register for the COP27 Africa Regional Resilience Hub virtual event
Register for the COP27 Africa Regional Resilience Hub virtual event
Share this:
Story detail:
The Africa Regional Resilience Hub has opened registration for a virtual programme of events from 19-22 September aimed at illuminating African priorities and solutions to be shared at COP27.
Led by CDKN and SouthSouthNorth, the Africa Resilience Hub is one of four regional hubs of the COP27 Resilience Hub, which serves as the home to the Race to Resilience campaign, representing over 1,500 non-state actors taking action on resilience around the world.
The Regional Resilience Hubs aim to ensure the voices and perspectives of traditionally under-represented communities are heard and amplified to a global audience. They illuminate and communicate regional priorities, actions, solutions and challenges. 
The Africa Resilience Hub's virtual event comprises 16 sessions on a diverse range of regional priority topics, including private sector solutions and community-led and bottom-up adaptation financing, climate-resilient farming and food systems, locally-led adaptation and extreme heat in African cities, cultural and heritage as a driver of climate resilience, the role of tech start-ups in building resilience amongst vulnerable households and businesses, and achieving food security through healthy and productive soils.
Register for the virtual event and share the invitation widely with your networks.
Image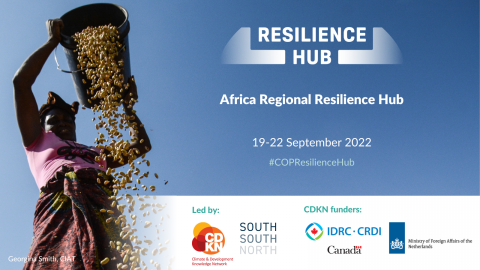 Photo: Georgina Smith, CIAT
Africa Regional Resilience Hub at Africa Climate Week 
The inaugural event of this year's Africa Regional Resilience Hub was held on 31 August at Africa Climate Week in Libreville, Gabon, and online. The CDKN-hosted event focussed on strategies for unlocking finance for locally-led action. Speakers called for governments and development finance institutions to be better prepared to respond to communities' priorities for climate resilience. Read more.
A second Africa Hub event at Africa Climate Week – 'Looking to COP27 from the regional level: Critical asks and solutions from the ground' – showcased how communities are advancing locally-led adaptation through governance and finance models.
Comments