Africa Regional Resilience Hub: Governments and development financiers should boost their capacity to meet local needs
Africa Regional Resilience Hub: Governments and development financiers should boost their capacity to meet local needs
Share this:
Story detail:
The inaugural event of this year's Africa Regional Resilience Hub was held on 31 August 2022 at Africa Climate Week in Libreville, Gabon and online.
Speakers called for governments and development finance institutions to be better prepared to respond to communities' priorities for climate resilience. CDKN's Mairi Dupar reports.
The idea of 'climate finance readiness' has traditionally emphasised the need for national institutions to strengthen their financial management and reporting procedures to qualify for international funding streams.
Speakers at the Africa Regional Resilience Hub event challenged this focus. They called for finance institutions and governments to strengthen their own 'readiness', capabilities and procedures, to become more responsive to local communities' needs. The event also heard about progress in implementing decentralised finance for climate action via Kenya's government programme.
Featured speakers came from organisations working on climate change adaptation and resilience in African communities: Alpha Ndungu of Hivos East Africa, Sarah Weruka of the National Slum Dwellers Federation of Uganda and Slum Dwellers International (SDI), Melanie Chirwa of the People's Process on Housing and Poverty in Zambia and SDI, and Esperanza Karaho of the Adaptation Consortium, Kenya. The event was opened by Michelle du Toit of CDKN and moderated by Ameil Harikishun of the Global Resilience Partnership.
Development financiers must respond better
Speakers called for funders and governments to act with more urgency to address the climate crisis – and to show more flexibility in supporting diverse climate adaptation needs at the local level.
One of the greatest priorities for capacity-building should be within governments and development finance institutions themselves, who sometimes seek to impose generic solutions at scale, but instead should tailor their support to communities' specific needs.
Alpha Ndungu of Hivos-East Africa stressed: "A lot of times we speak in our own small silos, this happens a lot in the development world. You go in a boardroom and (don't consult with the community). We think it's important to do it the other way around.
It's time we identify indigenous knowledge as being as important as scientific knowledge. What happens to the way my grandmother did things years ago, it could be suitable and sustainable.
It's time we recognised indigenous knowledge and use it to inform how we design processes and come up with new ideas."
"Communities have a crucial role as partners in co-creating solutions, participating in decision-making, and ensuring robust governance of local action," said Ameil Harikishun of Global Resilience Partnership.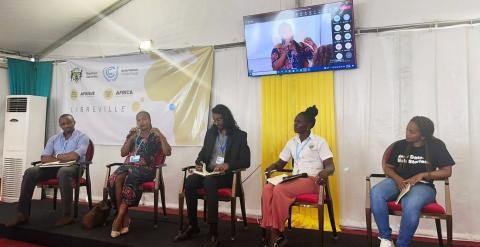 Reservoirs of knowledge in communities
Funding institutions have failed to recognise the degree of knowledge and data residing in local communities – argued Sarah Weruka of SDI. Such short-sightedness can cause projects and programmes to fail.
Ms. Weruka described how SDI's network collects data from communities and uses it for leverage in development planning processes. They have done this in urban slums in Kenya, in a housing  development in Zambia, and in Kampala, Uganda – in respect of the design of an expressway that could affect local people's homes.  
"The poor are not merely 'beneficiaries' of development" said SDI's Melanie Chirwa. "Their own resources including data are essential, and they should be able to broker deals that work for them." Ms Chirwa emphasised that grassroots and community networks are structured, organized and understand their issues well. They should be included at the table to help their national governments in negotiation processes, such as the UNFCCC Conference of Parties (COP).
Kenyan insight: planning for climate adaptation at the ward level
Kenya's climate change legislation provides for decentralised climate change adaptation planning. Kenya's experience could provide an interesting model for other countries, which are seeking to match communities' priorities appropriately with external funding.
Esperanza Karaho of the Adaptation Consortium, Kenya described how her organisation carries out participatory capacity assessments: community members identify climate risks in their wards (the smallest government unit) and the resources they have available to manage those risks.
"We identify the capacities that the communities have and we work with their knowledge and…. aspirations," she said. This enables communities to not only identify and prioritise but to develop local level climate action plans. "With this plan, they have ranked what they like, and they present it to the government as a proposal for funding," according to agreed procedures, Ms Karaho said.
The Adaptation Consortium is "a consortium of partners led by Kenya's National Drought Management Authority (NDMA) to support county governments [to] mainstream climate change into development and planning through the County Climate Change Fund Mechanism" according to their website.
(For further reading, see Kenya's National Climate Change Plan 2018-22, Box 3, page 23 'County Climate Change Funds (CCCFs)'; and page 98 'Establish CCCFs and ward development funds to address local problems'.)
Communities should be represented in all their members' diversity
The most important thing to note – emphasised Ms Karaho of Kenya -- is that people who devise the local climate change adaptation plans represent diverse groups of people within the communities. 
These could include youthful or elderly populations, women, ethnic minorities and Indigenous people, people living with differing abilities, and others.
The representatives consult continuously with members of the groups they represent. In this way, "what they come up with is not a committee intervention but a community-level intervention."
In summary
The speakers' interventions demonstrated that there is a keen appetite among African civil society organisations to improve communities' know-how about:
the sources of finance for climate-resilient development
how to access finance successfully
how to create sustainable financing models and so avoid lurching from one short-term project to another.
What is also required is more openness, understanding and flexibility on the part of external financiers, to provide appropriate support that responds to community needs.
Kenya's ward-level planning processes offer an interesting model with potential lessons for other countries and communities. Further dialogue and knowledge-sharing may be required to pinpoint which aspects of the Kenyan model are replicable in other countries, and the extent to which this model could be funded (in specific contexts) by domestic and international, public and private finance streams.
Discussions also reinforced the richness of local knowledge and the role for knowledge partners such as SDI to work with communities to collect, systematise and curate relevant, local knowledge.
Such knowledge partnerships can connect local insights to diverse stakeholders – including in other communities. They can guide and catalyse new climate solutions.
What's next
The Africa Regional Resilience Hub is one of four regional hubs of the COP27 Resilience Hub, which intends to provide a dynamic and diverse space both at and between UNFCCC COPs to advance inclusive and ambitious action on adaptation and resilience. The Regional Hubs aim to ensure that community- and grassroots-level voices are heard and amplified to a global audience.
Next, the Africa Regional Resilience Hub will run a programme of events, 19-22 September: visit the webpage and register for events here.
The Hub will capture highlights from these events to inform a submission by the Adaptation Research Alliance (ARA) to the Global Stocktake of the Paris Agreement.  The Global Stocktake is gathering information on opportunities, barriers and progress on Paris Agreement implementation.
Comments