What's on the climate finance horizon in 2021? Latest progress update of UNFCCC's Standing Committee on Finance
What's on the climate finance horizon in 2021? Latest progress update of UNFCCC's Standing Committee on Finance
Share this:
Story detail:
Kamleshan Pillay, Mairi Dupar and Lisa McNamara report from the Standing Committee on Finance meeting on 24 November 2020 - part of the virtual United Nations' Climate Dialogues.
CDKN has also provided comprehensive coverage of this event on www.twitter.com/cdknetwork
"We are in a critical moment of implementation", emphasised Ambassador Ms. Janine Felson of AOSIS at the Standing Committee on Finance (SCF)'s progress meeting at the Climate Dialogues last week. Since its establishment in 2010 at COP 16 held in Cancun, Mexico, the UNFCCC's SCF "has played a crucial role in helping the countries achieve the goals of the Convention and Paris Agreement", also remarked Mr Gard Lindseth of the Norwegian Ministry of Climate and Environment.
The SCF's outputs and forums help Parties make informed decisions related to climate finance in the UNFCCC process, as well as enhance ambition and climate action at regional and national levels.
Due to the COVID-19 global pandemic, the SCF, like all bodies under the UNFCCC, has had to operate under a "new normal" with most engagements now held online. "We have been doing the most (possible) to advance our work in intersessional mode and we have tried to innovate by having webinars and virtual meetings", said Ismo Ulvila of the European Commission, Co-Chair of the Standing Committee on Finance and the chair of the meeting.
Despite the challenges, stakeholder engagement continues to receive special emphasis. The SCF workplan is being shared with other constituted bodies under the UNFCCC as well as through two online intersessional meetings: this progress update meeting and another meeting in December.
Attended by SCF members, other UNFCCC constituted bodies, as well as external observers, the meeting provided an update on the main deliverables of the SCF.
SCF progress update
Biennial Assessment and Overview of Climate Finance report – on track to be released in 2021
The SFC's longstanding flagship product, the Biennial Assessment report, will be released in 2021. The report is the most comprehensive global report on the latest overview of climate finance flows. This revision will focus on methodological issues on climate finance, an updated analysis of 2017 – 2018 climate finance flows and data, for the first time, it will map out information related to Article 2.1c of the Paris Agreement (see figure below).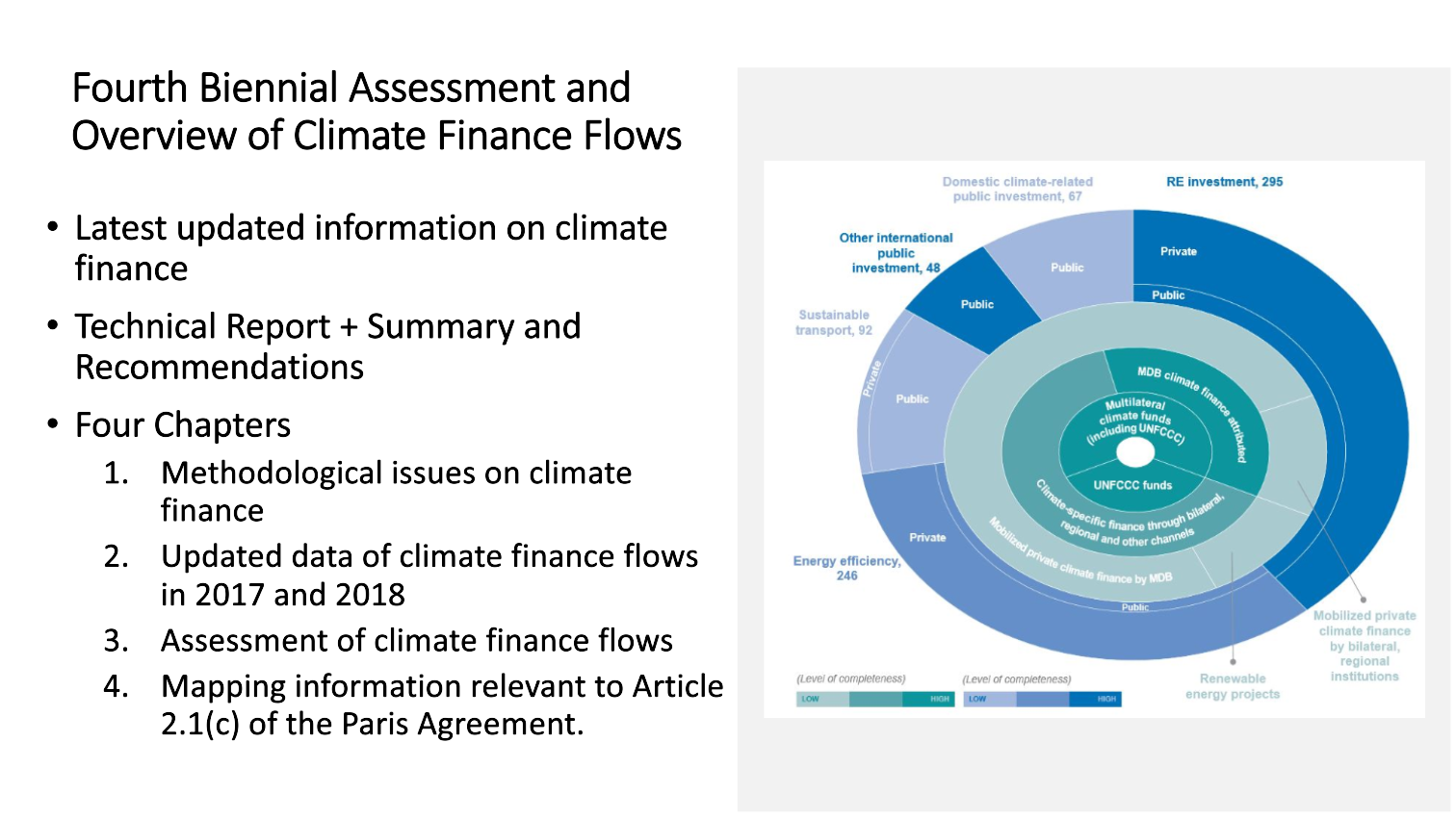 First-ever report on the needs of developing countries  
Another SCF flagship report will be the first of its kind, focused on the Determination of Needs of Developing Country Parties to the Paris Agreement as mandated by the Katowice COP. This report will include information and data on the financing, technology and capacity building needs of developing countries.
The report will be released in 2021 and subsequently issued every four years. It aims to synthesise existing information, focusing on official national reports to the UNFCCC as well as other regional and global reports. The report will include four focus areas: thematic (adaption, mitigation), sectoral, means of implementation (finance, technology transfer, capacity building) and geographical (Africa, Asia pacific, Latin America and Caribbean).
To ensure that stakeholders are engaged widely, the SCF has embarked on regional webinars and has also issued a call for evidence. Three regional webinars were held in September and October for Africa and East Europe, Latin America and Caribbean and Asia Pacific regions. Feedback was received from over 230 regional participants.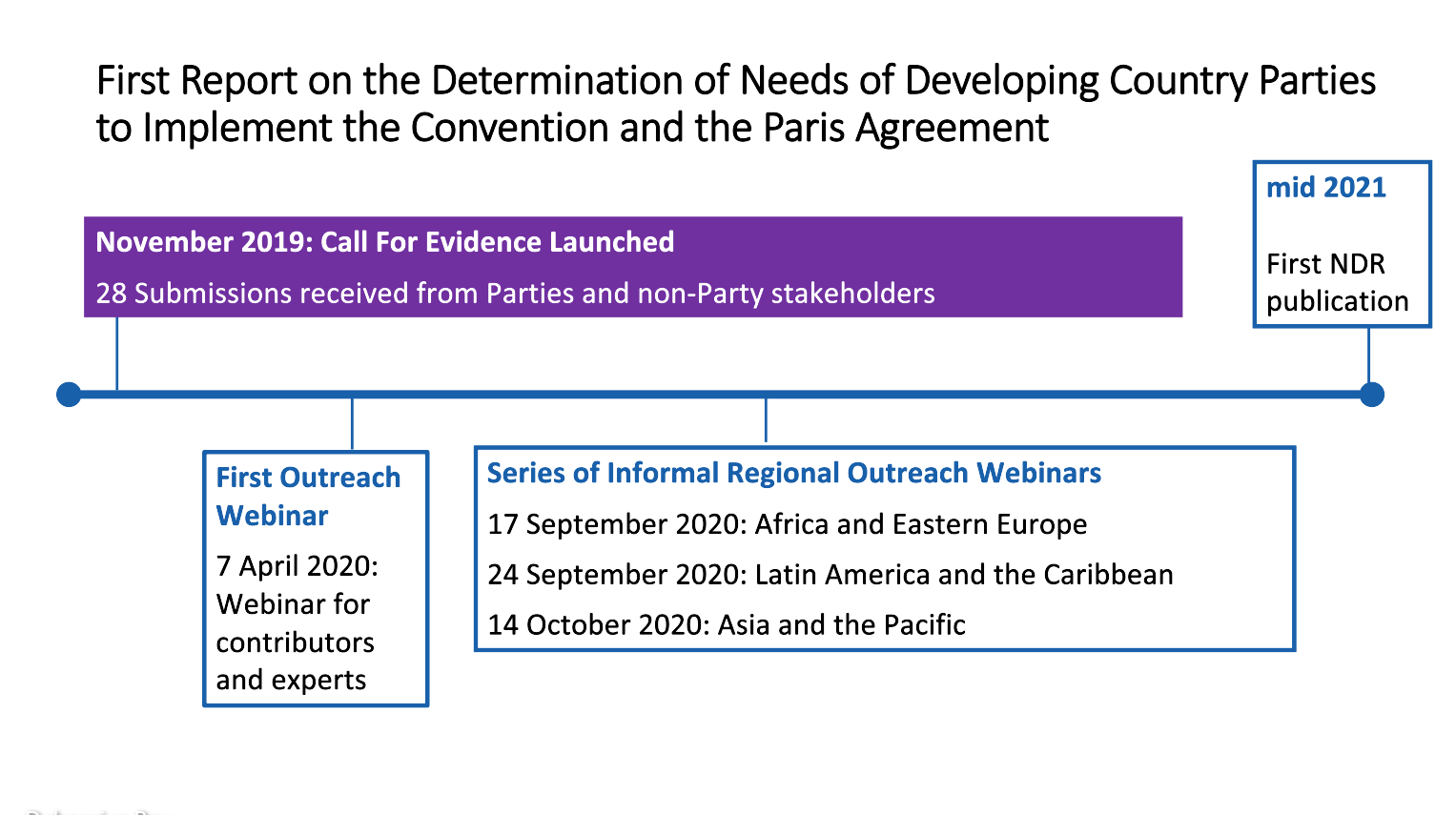 SCF Forum next year will be hosted on nature-based solutions
"Nature-based solutions often fail to attract resources on a par with their effectiveness in delivering climate, development, and wider environmental benefits", said Mr Mohamed Nasr, providing an update on the SCF Forum planned for 2021 which will be focused on nature-based solutions. The SCF Forum will look at success stories, and the role of indigenous and local knowledge. At present, the call for public inputs has already received 45 submissions. The forum provides a platform for a wide range of stakeholders from governments, climate funds, financial institutions, civil society, think tanks and the private sector to discuss a topic of interest in climate finance and promote linkages and coherence in the mobilisation and delivery of climate finance.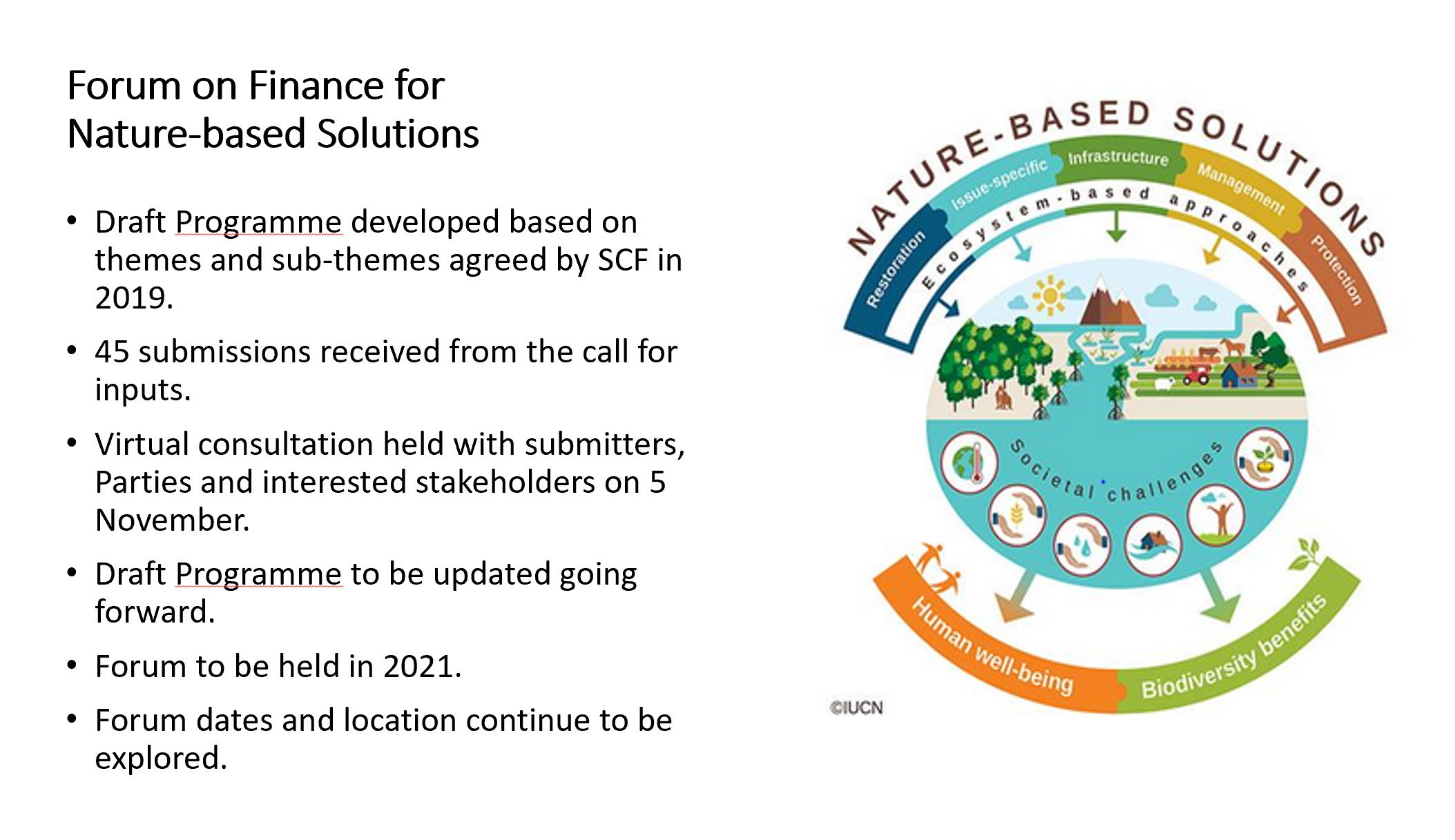 Preparing draft guidance for the operational entities under the financial mechanism
Mr Sugio Toru from Japan highlighted that typically, the SCF is mandated to provide guidance to the operational entities of the financial mechanism at the COP. Since there is no COP in 2020, a draft guideline is prepared now. At COP26, the Parties will consider two years of implementation by the operational entities and this draft guidance.
Collaboration opportunities with UNFCCC Constituted Bodies and External Observers in 2021
UNFCCC Adaptation Committee

The UNFCCC Adaptation committee has conducted an assessment of capacity gaps for adaptation finance. Some of the notable gaps included: raising awareness of climate change impacts, and creating an enabling environment and fundable projects that are justifiable and profitable. "We have learned that adaptation is not a one-off project, but a longer process requiring institutional and individual capacity building" said Ms. Funanani Muremi of South Africa's of Department of Environmental Affairs and UNFCCC Adaptation Committee member.
One opportunity for SCF and Adaptation Committee collaboration is on action-orientated briefs or case studies to determine how identified capacity gaps could be closed. In 2021, the Adaptation Committee will be updating the 2015 guide on navigating support for National Adaptation Plans and intend to include a section by adaptation area. The second opportunity is joint methodological work on reviewing the adequacy of adaptation support (inviting the LDC expert group, the SCF and other experts) to compile existing methodologies and technical work. A third area of focus would be the inclusion of findings in the global stocktake.
Paris Committee on Capacity Building

Ms. Marzena Chodor from the State Research Institute, Poland and PCCB Co-Chair highlighted a proposal for the Paris Committee on Capacity Building to launch a coordinating group next year, to meet twice per year, and update on all capacity building work across the UNFCCC constituted bodies.
External observers

The European Bank for Reconstruction and Development has agreed to a green economic transition approach; the 'green' share of its portfolio will rise to 50% by 2025.  "We are starting to align our overall work with the Paris Agreement" noted Mr Jan Willem van de Ven, Head of EBRD, while setting a long-term target for achieving climate resilient economies and net zero.
EBRD plans to intensify their cooperation with the private sector to mobilise green finance – across a range of areas including cities, sustainable connectivity, natural capital investment, green buildings. The SCF Forum on nature-based solutions in particular is aligned with EBRD's priorities. Lastly, EBRD noted that there was a need to finalise the PA rulebook with reference to Article 6. If a fully functioning Article 6 is in place, the "economic side can advance and the limited public funding available could meet the needs and close the gap".
Mr Bernd-Marcus Liss of GIZ highlighted some actions GIZ are taking as an implementing agency. GIZ supports the implementation of the PA at large, including NDCs, fosters organisational development and supports policies and strategies toward climate action. GIZ currently has a portfolio of climate projects worth 2.7 billion EUR and "is still growing". "We are thinking about climate smart economic recovery measures that could help economies in transitioning to a climate-smart and climate-friendly environment after the COVID pandemic. And this would help link the health and environment agendas to climate.".
GIZ noted that a significant challenge continues to be the ability of entities to create bankable project proposals.
Conclusion
The main theme emerging at the meeting, at this critical juncture for implementation, was the need for effective needs based climate finance for developing and coordinated developed country approaches and support. Ambassador Ms. Janine Felson noted that the specific structural challenges of Small Island Development States need to be considered and addressed; it is "important that the SCF doesn't take a one size fits all approach to developing countries, especially regarding the needs report it is preparing".
For more information
Download the powerpoint presentation from the UNFCCC Secretariat from the Standing Committee on Finance Progress Event, 24 November 2020.
Image: closing ceremony of UNFCCC COP25, hosted by Chile and located in Madrid, Spain in December 2019; courtesy UNFCCC. COP26 will be in Glasgow, UK in November 2021. 
Comments