What's coming up for climate finance in 2022? Key updates from the UNFCCC's Standing Committee on Finance
What's coming up for climate finance in 2022? Key updates from the UNFCCC's Standing Committee on Finance
Share this:
Story detail:
Emma Baker, Samson Mbewe and Lisa McNamara report from the UNFCCC Standing Committee on Finance meeting in Cape Town, South Africa, held on 22nd and 23rd March 2022.
"Mobilising and delivering climate finance has never been more urgent, at the national and local levels, to fight the climate emergency and make the Paris goal a reality", remarked Daniele Violetti, UNFCCC Secretariat, at the opening of the 27th meeting of the Standing Committee on Finance (SCF).
At this meeting, the SCF celebrated ten years of existence, after being established at the 2010 Conference of the Parties (COP16) in Cancún, Mexico. For the last ten years, the SCF has supported Parties with making evidence-based decisions on climate finance by tracking finance flows and needs, and providing a Forum on issues relating to climate finance, where all voices can be heard.
SCF members, the UNFCCC Secretariat and external observers met in-person and virtually for the 27th meeting in March 2022, to chart their workplan up to COP27.                                        
SCF mandates from COP26 and CMA3
Climate finance was a central topic at COP26 in Glasgow, at the end of last year. At COP15 in Copenhagen developed countries pledged to mobilise US$ 100 billion annually by 2020, to address the climate-related needs of developing countries. Twelve years later this target has not been met; however a flurry of pledges just before the Glasgow COP led to hopes that, "developed countries will make significant progress towards the US$ 100 billion goal in 2022 and express confidence that it would be met by 2023" (COP26 Presidency's Climate Finance Delivery Plan).
The US$ 100 billion goal was meant to be met by 2020 and sustained to 2025, and Parties are now looking ahead to how ambitious the next goal should be. The first Technical Expert Dialogue on the New Collective Quantified Goal also took place in Cape Town following the SCF meeting. However, to measure progress against the financing goal, consensus needs to be reached on what should or should not be included as 'climate finance'.
The latest OECD report estimates that developed countries contributed US$ 79.6 billion in 2019. However Oxfam has calculated that once loan repayments, interest and other factors are taken into account, net assistance was only in the region of US$ 19-22.5 billion per year in 2017-2018.
In this context, the SCF was tasked by the COP and the CMA with three new mandates, to be considered at COP27:
Preparing a report on progress towards achieving the US$ 100 billion per year goal. The report will provide, for the first time, a UNFCCC assessment of where we stand on climate finance from developed to developing countries, reiterated by Fiona Gilbert of Australia at the SCF meeting: "Out of COP26 the main motivation for this report is to have an official UNFCCC report that tracks progress to the US$ 100 billion".

The Biennial Assessment (BA) (covered below), a flagship product of the SCF prepared nearly every two years on climate finance flows and trends, will also feed into the US$ 100 billion progress report.  

Mapping information relating to Article 2, paragraph 1(c) of the Paris Agreement, which focusses on making finance flows consistent with a pathway towards low greenhouse gas emissions and climate-resilient development. Egypt's Mo Nasr called for this mapping to look at "the criteria, approaches and guidelines that institutions might be using to say they are in line with 2.1c… we need to dig deeper into what 2.1c means".

Continuing its work on operational definitions of climate finance, taking into account the submissions received from Parties. The Fourth BA highlights that while definitions being used generally reflect a common understanding of mitigation or adaptation finance, they differ when it comes to sector-specific activities, certain financial instruments and approaches to public and private finance flows.
Some Parties in their submissions noted how the lack of a common definition affects the ability to track and assess the fulfilment of the obligations of Annex II Parties' under the Convention and developed country Parties under the Paris Agreement. They emphasised that a common definition could support the preparation of the BA and the overall transparency and effectiveness of the UNFCCC process by highlighting the link between the level of action of developing countries and the level of support provided.
Fourth Biennial Assessment launched and Fifth Assessment underway 
The Fourth BA was launched during COP26, focussing on global climate finance flows from 2017-2018 and including information on the geographical and thematic balance of flows (see below).
Key findings include a 16% increase in global climate finance flows to an annual average of US$ 775 billion over 2017- 2018. However, there is a greater support for mitigation as opposed to adaptation across bilateral (64%/21%), multilateral climate funds (48%/20%) and multilateral development banks (75%/25%).
Image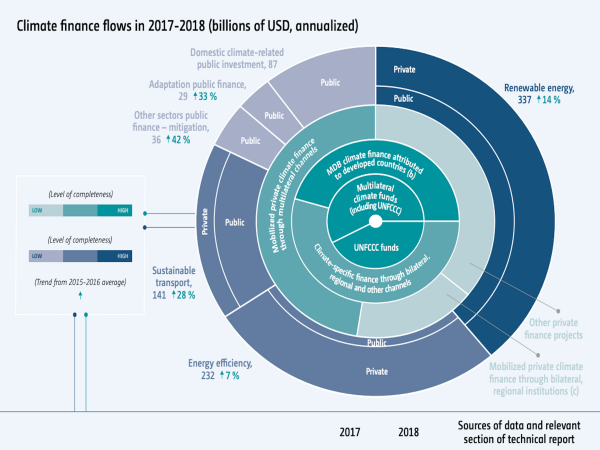 Global climate finance flows (2017-2018)
Access to climate finance also remains a challenge. In a 2019 survey, 73% of respondents from 45 developing countries identified finance from multilateral climate funds as the most challenging to access. This BA also included, for the first time, a section assessing activities and approaches to meet the goal in Article 2.1c across public and private finance, market operators and regulatory authorities. The BA found that there has been a significant growth in article 2.1c-related activities since the Paris Agreement. However, the risk of greenwashing remains a challenge and finance flows in GHG-intensive activities are concerningly high (see below). The SCF's work on Article 2.1c in 2022 (mandate 2 outlined above) will build on this initial mapping in the BA.
Image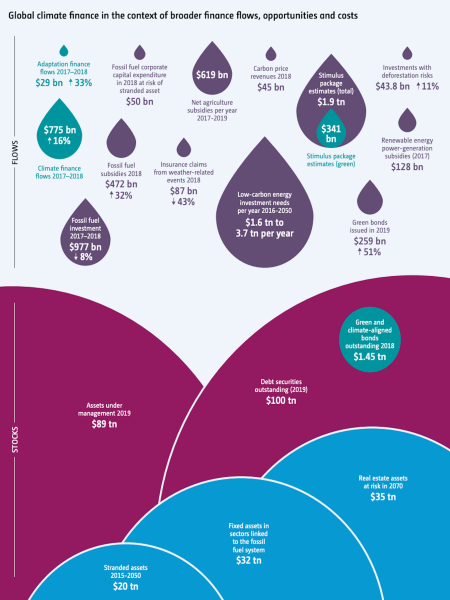 Global climate finance in the context of broader finance flows, opportunities and costs
At the SCF 27 meeting, attention turned to preparing the fifth BA, the last one before the Global Stocktake. COP26 endorsed the BA's technical report outline, and the workplan and timeline for the report was agreed at the SCF meeting.
The SCF approach will comprise technical work, committee-level work, and dedicated outreach and communications to engage relevant stakeholders from across the climate finance community in preparing the report, as well as ensuring its key findings reach a broad audience. A call for evidence will be launched with a deadline for receiving inputs by end July 2022.
The fifth BA will build on previous assessments by considering of the latest trends in climate finance and not only the latest data. For example, the BA will examine efforts to fill data gaps on domestic climate finance, new sectors or technologies covered, taxonomies, information on the impact of sustainable recovery packages and just transition activities, and issues that may affect climate finance flows, such as debt vulnerability.
Financing Nature-based Solutions: Watch out for Part II of the SCF NbS Forum in 2022
The SCF Forum enhances communication and information exchange on specific topics related to climate finance, and promotes linkages and coherence among climate finance actors globally.
Most recently the focus of these forums has been on 'Finance for Nature-based Solutions'. The first part of a two-part Forum was held in hybrid format in October 2021. A synthesis report was produced that outlines key NbS concepts, which will inform Part II of the Forum focussed on NbS implementation and scaling solutions. The Forum is due to take place in-person in 2022, with options for virtual attendance. The dates and venue will be confirmed soon. The SCF will submit a summary report on the Forum to COP27.
Part II will explore the issues around financing climate mitigation and adaptation based on the science and principles of nature-based solutions; sharing experiences of developed and developing countries in designing and accessing finance; closing the finance gap for nature-based solutions; and ways to mobilise action and scale-up nature-based solutions.
Looking ahead
Following the recent IPCC Sixth Assessment Report release on Impacts, Adaptation and Vulnerability, the need for clarity on climate finance definitions and flows has never been more urgent.
The SCF has a significant challenge ahead to fulfil its existing mandate of preparing the fifth Biennial Assessment, as well as the three new highly technical and politically-complex mandates that emerged from COP26 and CMA3. However, these mandates are crucial for Parties to progress in their climate finance deliberations, and implement the pledges and commitments, particularly towards the US$ 100 billion goal that is so vital for those most affected by the climate emergency.
Comments