Practising what we preach: CDKN's own co-creation adventure
Practising what we preach: CDKN's own co-creation adventure
Share this:
Story detail:
CDKN Learning lead, Lucia Scodanibbio, reflects on a recent three day co-creation process the CDKN team undertook to develop a capacity strengthening programme to assist knowledge brokers to be more effective facilitators of climate action. While acknowledging the challenges associated with co-creation spaces, Lucia emphasises the sustainable, inclusive and effective solutions that can emerge from them.
We all know that it is far easier to preach to others than practise those recommendations oneself. This is what I quickly came to realise as we embarked on a three day co-creation process with the CDKN team, aimed at developing our upcoming knowledge brokering for climate action capacity strengthening programme.
Taking a few steps back…
CDKN's second phase learning work focused on capturing the lessons learned by CDKN partners as they used different knowledge brokering strategies, approaches and tools in their pursuit of more evidence-based decisions and practices to advance climate-resilient development in their respective countries. These lessons showed that far beyond what the literature on knowledge brokering mainly discussed, our partners were not only connecting researchers or other knowledge producers to users at multiple levels, but they were operating as change agents in numerous, creative ways. In late 2022 and early 2023, these lessons were captured for various audiences: for academics and researchers through a journal article, to challenge them to consider knowledge production as just one facet of the decision-making endeavour; for the practitioners and those with little time, a three-page high-level summary of the key points; and for those wishing to learn the details of what a knowledge broker really does, an entire webpage with links to our nitty-gritty learning stories packed with insights about challenges and ways to overcome those. 
As we wrote up those lessons and reflected upon them, it became increasingly clear that we needed to disseminate the lessons widely. Importantly, we had to share the multiple approaches and tips we had learned from our partners – and others doing similarly cutting-edge work to contribute to climate-resilient development – far and wide. Our primary starting concern was our observation that most university systems are still not providing a holistic educational journey for climate students. While graduates become proficient at understanding climate projections and concepts like risk, exposure and vulnerability, they often lack the skills and tools needed to establish connections among diverse stakeholders, knowledge systems and sectors. This gap presents numerous challenges, including handling conflicting interests and agendas, addressing power imbalances and navigating through fragmented governance systems. Furthermore, although we realised that many practitioners, researchers, community leaders, communicators and government officials are acting as knowledge brokers, most of them do not know this niche term, nor have they been exposed to strategies and approaches that could make their work substantially easier. 
Our mission thus became to create a capacity strengthening programme – mainly catering for early career researchers to start with but with an aim to appeal to both practitioners and policy actors in the not-too-distant future – to share knowledge brokering concepts, tools and principles that would help them be more effective facilitators of climate action. Our idea was for this to be an exploratory journey in which we would be learning from the trainees as much as sharing some of our own experiences. Our intention was to share lessons about making knowledge more understandable in innovative ways, co-creating response options with diverse knowledge- and stake-holders, understanding the barriers and levers of change. Crucially, to do all of this, from a starting point of deeply understanding one's socio-economic, cultural, governance and ecological context and all the multi-directional interconnections within it. 
Zooming back forward…
And so there we were. Thirteen of us in person, in a rustic, family-owned hotel one hour outside of Cape Town, and two dedicated colleagues joining by Zoom and Skype from Nairobi and London. The aim was to add meat to the barebone skeleton structure of eight proposed modules intended to strengthen the capacity of knowledge brokers in the global South. Of course, there was a bit more than a scanty skeleton, as I had spent months collecting interesting material into a 167-slide PowerPoint presentation, with the result that I was drowning in more or less useful knowledge myself. I needed help!
Image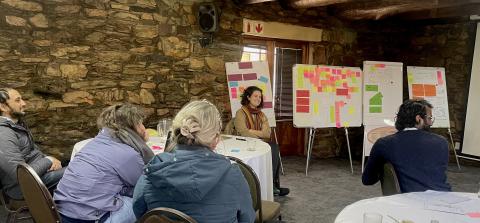 Gaopalelwe Moroane via CDKN
The idea was to work in small groups, according to one's interests and knowledge, to co-create as much of the content and structure of the training together. Brainstorming was needed around the big picture, such as the overall principles that would guide both our own and others' knowledge brokering work, the sequencing of the modules and golden threads running through them, and the visual identity and elements of this overall programme – including with the help of a design and vision graphics creator accompanying us for the three days. And we also needed to tackle each module's specific learning objectives and outcomes, as well as theoretical and practical elements, including illustrative case studies from the field, experiential activities and jolts intended to create "aha" moments. 
It was an ambitious agenda, yet very open and flexible, as I did not know how many people would be interested in further developing each of the eight modules, how much time would be needed for these iterative sessions of group work (as in themselves, each one could take weeks to develop) and how we would move between the deep detailed work and the higher-level sense-making to see how the individual pieces were connecting and giving rise to a coherent, visually- and technically-connected big picture. Needless to say, I spent most of the night preceding our first day of work tossing and turning in bed…
As our SouthSouthNorth colleague joining us from the Southern African Climate Finance Partnership programme (SACFP) reminded us at the beginning – after my scene-setting presentation laid out some guidance for the next few days – we would be following a 3 diamond product process, in which periods of convergence would need to succeed the initial divergence in which many different ideas were brainstormed. 
Image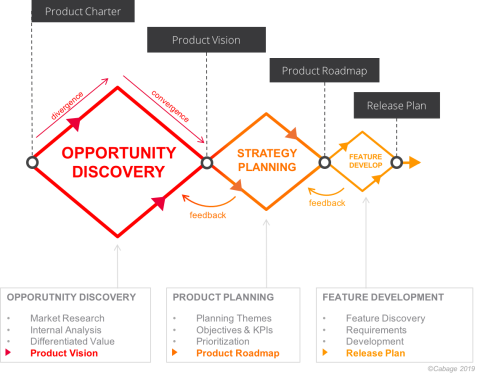 3 diamond product process via Neal Cabage
And divergence we had, as on the second day both our lunch and end-of-the-day closing time were delayed by an hour as heated debates around a potential visual depiction of the overall capacity strengthening programme gripped everyone. While pleas by some to keep pragmatic and cool-headed were ignored by others despising linear models not reflecting the messy knowledge brokering reality, confusion reigned as I, at some points, was even uncertain if we were indeed still talking about our overall picture or had drifted off to talk about the universal complexity of our climate action work. Luckily, mutiny was avoided as the hotel waiter threatened that the food would dry out if we did not make our way to the restaurant. It also became clear that different terms take on different meanings for different people and that it is crucial to check in with each other, as often a low-hanging solution may lie in simply clarifying the intended use of particular words.  
On the third day, convergence indeed followed the divergence and ground was covered as we looked through the emerging programme overall, discussed the order of modules and approached the difficult subject of next steps. I already felt extremely grateful at the dedicated, involved participation of this group of colleagues who had taken precious time away from their other pressing commitments to embark on this three-day co-creation adventure. Yet I also knew that going forward, it would be difficult to re-create this space and level of commitment. 
Personally, as we made our way back home, I felt a range of contrasting emotions. Satisfaction and humbleness as everyone had shared their positive impressions of the three days, as well as excitement about what this programme has the potential to deliver. Anxiety, knowing how much work still lay ahead, with tight deadlines as our two sessions at the Adaptation Futures conference – just two months away – constitute the testing ground for some of this material and tools. Exhaustion, as I realised that for three days I had not given myself permission to "check out" at any point, feeling the responsibility of holding the space for everyone, the pressure of this experiment needing to work (in light also of the invested funds in it) and the difficulty I had faced as I tried to mentally capture individual, detailed ideas about specific theoretical elements concerning particular modules, while yet keeping the big picture of where the workshop was heading in mind. Relief, as I realised that what we had worked on – including learning outcomes, theory and principles – though dry and hardly fun compared to games, jolts and the creative exercises I hoped we would brainstorm, was a big step forward and an area that needed everyone's input. And gratitude once again at the thought that I would meet all the colleagues again in the office and the more exciting components could still be created together.
Finally, I was also reminded of one point we had made in our paper: that while co-creation spaces can be tricky and imply the loss of control over the outcome, the developed solutions are likely to be more sustainable, inclusive and effective than those developed top-down. As I thought about the workshop's outcomes, I was sure that this was indeed the case.
Comments