Water and waste flows between rural and urban areas: The case of Gurgaon, India
Water and waste flows between rural and urban areas: The case of Gurgaon, India
Share this:
Story detail:
Vishal Narain reports from Gurgaon city, India on the processes affecting the peri-urban landscape and the impact on water security and local people's vulnerability.  
As rural water gets appropriated by thirsty cities, competition is projected to grow for this scarce resource: competition between cities such as Gurgaon and peri-urban areas that need water for agriculture.
This is not a new challenge for Gurgaon city, which saw a massive transformation from being an agrarian powerhouse in the 1980s to a 'business start-up city' today (see image: 'Gurgaon cyber city under smog', right).
The shift in Gurgaon's economy was enabled by many factors. These include its location on the borders of Delhi, its great connectivity to a major airport and national highways, the increasingly lucrative nature of its real estate sector, the development of the IT sector and a government role in attracting private capital, through the creation of Special Econom­ic Zones.
Furthermore, Delhi's dwindling land supply and mounting real estate prices made Gurgaon an attractive place to locate outsourced service hubs. This created many investment and employment opportunities.
The spurt in economic activities in the buzzing city and peri-urban areas and the manifold increase in the population over time was accompanied by major land use changes. Private agricultural and common lands were allocated for residential, industrial and commercial uses. Wide-scale water reallocation took place rather inconspicuously as land uses changed; namely, as prime cropland was converted into urban space.
In Gurgaon, urban life and landscapes are heterogeneous. They range from high-income gated communities at one end of the spectrum, to resource-constrained slum dwellers at the other end. At the same time, the rural coexists with the urban: the city has several village settlement areas with ponds and agricul­tural plots.
The processes of urbanisation and peri-urbanisation have created new infrastructure challenges and fresh flashpoints for rural-urban water conflicts.
The impact of urban expansion on peri-urban areas
The growth of the millennium city has spurred competition for water with agriculture in the peripheral villages. Discord over water is common, involving conflicts between sectors or users such as agriculture vs. domestic; municipality vs. industries or private users; urban vs. peri-urban and rural users. Rural inhabitants, especially small and marginal farmers, face numerous challenges in competing for water with urban-industrial users.
The city relies on groundwater and also, since 1990, on water from the Yamuna river supplied through a canal via Sonepat. This supply is extremely limited (200 million litres per day, MLD) and the balance of demand (210 MLD) is met through groundwater.
The peripheral areas of the city, such as the village Sadhraana, face the risk of rapid declines in groundwater levels. Located 15 km from Gurgaon, Sadhraana has many farm houses, i.e., houses attached to farms, which have mostly orchard crops. In many cases, the farm houses can only access saline water - and this has led to a growth in the market for sweet water. Users have drilled illegal borewells into the aquifer to access sweet water and transport it via underground pipes to those who need it.
Moreover, fruit orchard farmers have also dug deep into the aquifers to provision their own farms, so depleting the groundwater available to other local people. This trend has negative equity implications for the original residents of the area.
As Gurgaon city's demand for water grows with its population, the authorities have augmented local infrastructure, such as the water treatment plants at Basai and Chandu-Budhera.
The plant was built following acquisition of village grazing lands, and tensions inevitably ensued. Budhera is a largely livestock-dependent village; but the land acquisition led to major livelihood disruptions. Households had to cut back on livestock holdings or shift from livestock grazing to stall-based feeding, in the absence of land.
These shifts have affected women's participation in livestock management. In these agro-ecologies and socio-economic groups, the responsibility of livestock grazing was assigned to men, while collection of fodder for stall feeding was traditionally done by women. The recent changes shift the burden of men's work to women, but have not been accompanied by any increase in decision-making by women in the livestock, trade and investment domains.
Peri-urbanisation processes have also had a bearing on gender relations among upper caste women particularly from among Rajputs, who were traditionally not involved in collection of water. With the Rajput men migrating for work to urban areas, they are doing this now. In this case, urban expansion changes the intra household activities between man and women, but ends up adding to women's work burdens and responsibilities.
Impact of climate change and variability on peri-urban areas
Climate change is at least partly responsible for changes underway in rural land use, including an increased risk of crop failure. The areas under wheat and vegetable crops are in decline, and there has been a relative shift towards mustard crop.
Farmers attribute their changed preferences to the changing duration of seasons, including declining rainfall and a weak and shorter winter season. Scientists have documented a decline in the frequency, intensity and seasonal distribution of rainfall (which is necessary for vegetable- and wheat-growing), disappearance of the 'chaumasa' (the four month monsoon season), rising temperatures and prolonged summers (Narain et al., 2016).
The compounding effects of climate change and variability and urbanisation on local people have been described thus: "Analysis of hydrometeorological data for the region supported a long term decline in the rainfall and its changing seasonal distribution and increase in evapo-transpiration. On the one hand, these communities are impacted by changes brought on by urbanisation – losing land and water resources to support urban expansion; on the other hand, they are impacted by climate change and variability" (Narain et al, 2017).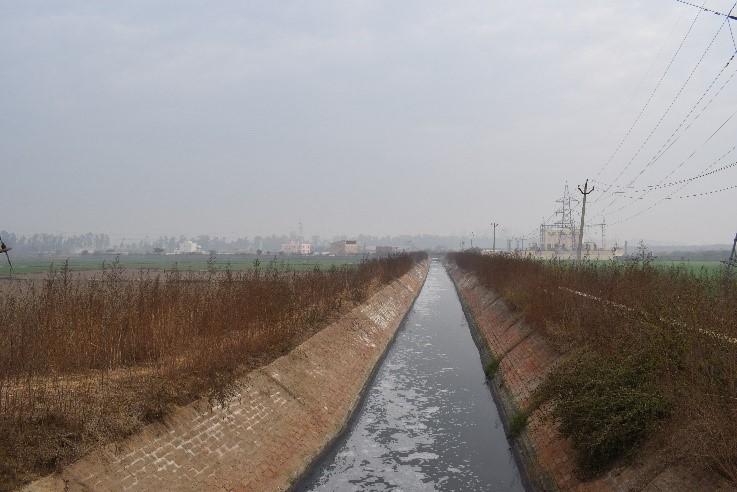 Wastewater flows from urban to rural
As water and other resources are steadily appropriated from the rural areas by the urban areas, the rural areas also bear the brunt of the city's wastewater release.
For the rapidly expanding frontiers of Gurgaon city, the disposal of urban wastewater into villages like Budhera not only servces the purpose of disposal, but it also serves to provide wastewater for agriculture, including wheat and rice cultivation.
In villages such as Budhera, during periods of poor rainfall, the area under rice paddy receives wastewater for irrigation. Farmers are aware of the health implications of growing crops using wastewater and do not consume the produce but sell it instead.
Peripheral villages at the mercy of a disjointed governance system
The case of Gurgaon depicts how rapid urban expansion, the encroachment of resources and the changing flow of goods and services between villages and urban centres have hit the ecology and livelihoods systems of the people in the peripheral areas. In the midst of these changing pressures and risks, the slow-burning climate crisis continues. Urban planning needs to do away with the inequity that is inherent in processes of urbanisation, as well as the dichotomy between urban planning and rural development.
This blog has been written by GEAG based on a case study on "Urban and Peri-urban Water Flows: The Case of Gurgaon" by Dr Vishal Narain, as part of the Knowledge Brokering Project on Peri-Urban Ecosystems for Urban Climate Change Resilience: Addressing Knowledge and Capacity Gaps, supported by CDKN.
Image (top right) 'Gurgaon cyber city under smog', courtesy Ninara, flickr.com; wastewater channel in peri-urban Gurgaon (above), courtesy GEAG.
Comments