After Paris: Perspective from Ram Chandra Khanal, Nepal
After Paris: Perspective from Ram Chandra Khanal, Nepal
Share this:
Story detail:
"How are the most affected people going to benefit from this deal?" asks Ram Chandra Khanal, CDKN's Nepal Strategy Advisor, of the Paris climate deal. Here, Miren Gutierrez interviews Mr Khanal on the implications of COP21, as part of a series 'After Paris: Perspectives from developing countries.'
The Paris Agreement on climate change of December 2015, which took weeks of tense negotiations among 196 countries, was deemed by some people to be the world´s greatest diplomatic accomplishment. It will enter into force on the 30th day after the date on which at least 55 Parties to the Convention – accounting for at least an estimated 55% of total global greenhouse gas emissions – have exercised their instruments of ratification. So the time to roll up sleeves and start working has come. How does it look from the perspective of a country like Nepal which is highly vulnerable to climate change? This Asian country is threaten by draughts, floods, landslides and soil erosion, while the livelihoods of more than 80% Nepali people depend on climate sensitive sectors such as agriculture, forest and livestock. In this interview, Ram Chandra Khanal, CDKN´s country coordinator and an experienced evaluator of climate change adaptation measures, talks about the challenges for this diverse, mountainous country.
The Paris Agreement created an ambitious mandate for the global community. Does it change the national conversation in Nepal about action on climate change? If so, how?
There still exist two perspectives in Nepal. One group is happy with the achievement as it was due for a long time and they think it is really difficult task to bring all the parties to agreement on a single document or framework without some level of trade off. Others think that the agreement is still vague. For example, how exactly are the most affected people going to benefit in practical terms from this deal? And when?
I have, however, felt a positive vibration from many here, including (Nepali) government stakeholders. The Ministry of Environment has organised meetings to share the findings from the CoP (the Conference of the Parties to the United Nations Framework Convention on Climate Change or UNFCCC – the official name of the Paris climate summit). They also organised a workshop to explore ideas about how Nepal can benefit from the agreement. Although it is difficult to attribute the impact (of these initiatives), the Ministry of Environment has created a unit on climate finance within the ministry recently, and also submitted its Action Plan for its INDC (Intended Nationally Determined Contribution) to the UNFCCC in the first week of February. These immediate responses showed the government's positive response and a firm commitment on the agreement.
About Nepal´s INDC, what will it take to get from 'intended' to 'implemented'? What are the big opportunities and challenges?
Nepal had not submitted its INDC as planned earlier (it was submitted only on 4th February 2016). That's because the government had reservations: should it come up with some ambitious plan or to try to be more realistic based on the commitment expressed in the Nepal's development plan and other sectoral programmes, strategies and policies? Besides, the ministry wanted to obtain the consent from a higher government authority before they submitted the INDC to the UNFCCC. This took some time. For the last couple of months before the submission, this dilemma was an important issue internally. We at CDKN closely followed the process and also provided our input.
Regarding the question about when commitments stop being "intended" and become "implemented", the proposals are mostly based on targets set by the government in various sectors. For example, the government has already set targets for renewable energy generation from hydro-electricity and solar power. They are mostly technically "implementable". But, it is difficult to say now whether they will become a reality soon. There are many policy, institution and financial constraints, among others. My experience of reviewing national plans and development targets for the past decade reminds me their delivery and effectiveness are not usually met 100%. Most of the time, much less is achieved. So, from this point of view, the commitment could remain just "intended", but we have to aware of the fact that targets are not decided just to be mentioned in the INDC.
In any case, whatever targets are decided within the INDC, they are associated with a "no regret strategy". That is, there is a general consensus that there must be no negative impacts on development from most of the activities planned in the INDC, by pursuing a low carbon strategy in the development process. Nepal has drafted low carbon economic development strategies, which hopefully will be finalised soon. However, at the same time, this country is facing a huge energy crisis. So there is the possibility that the government may emphasise these dilemmas in facing its INDC.
[caption id="attachment_62117" align="alignleft" width="300"]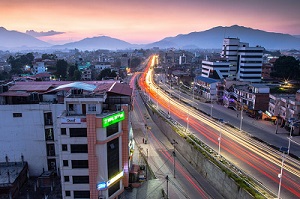 Solar street lights, Nepal, credit ADB.[/caption]
The Paris Agreement calls for limiting average global temperature rise well below 2oC, as close to 1.5oC as possible. Nepal´s emissions are very low, but they are growing – what hope is there to see economic growth and development with lowered emissions in the specific case of Nepal? Concretely, how do you go about reducing greenhouse gas emissions, addressing economic development and climate change, as well as increasing food productivity sustainably?
Yes, there are a lot of issues and challenges around this. Nepal´s government has incorporated the concept of climate compatible development as one of the strategies, but there is a huge gap in research-based knowledge on what are the barriers and opportunities for that. Nepal's current emissions are just about 0.027% of the global emissions, and there is therefore the obvious question about why Nepal would worry about reducing its greenhouse gas emissions.
This also has to do with climate justice, and how it might affect development priorities and needs. So, Nepal's climate change priorities are not set around mitigation per se, but the intention is to explore the areas where there are adaptation co-benefits in mitigation. Examples include the conservation of forests, which provide environmental services to people and sequester carbon, replacing fossil fuel-based energy generation by renewable energy; and better transport management in cities, in order to reduce air pollution as well. So, Nepal's development plans incorporate these climate change strategic issues and climate compatible development processes, without compromising much of its development and economic growth.
In spite of this, there will be certainly trade-offs. I have personally witnessed some such challenges in the agriculture sector. The government has emphasised "climate smart"approaches in its agriculture development strategy. But there are clear trade-offs in this sector, and keeping the agriculture sector climate smart needs additional knowledge and funds.The agriculture sector is highly sensitive to climate change, and more than two thirds of people in Nepal are dependent on agriculture for their livelihoods.
Nepal is also focusing on how new technologies can be transferred with low or no cost from other countries, and how climate finance can be guaranteed in order to move from a traditional economic approach to a more climate compatible alternative. This nevertheless needs a lot of institutional and financial investment.
If you check most INDCs from developing countries their emission reduction targets are subject to technology development, international climate finance and capacity building. What would happen if the means of implementation does not flow at national level? 
This is really important issue. We have seen in many cases that even having the technology, funds and capacity, things do not move in the right direction. But some conditions are to be fulfilled to accomplish this target as well. The first one is related to availability of appropriate technologies, finance and capacity (necessary conditions), at the same time developing and effective management of implementation mechanisms at country level (sufficient condition). Due to the low level of adaptive capacity of the developing countries like Nepal, there is an obvious expectation to get support, technology and climate financing to face climate change. But it is equally important to understand the critical role of a country´s government to implement plans so that broader climate targets can be met. So, to me, these two things need to go hand in hand.
In the context of weak implementation, there is a high chance of failure in climate action in terms of reducing the greenhouse gas emission targets, further aggravating the livelihoods of the most vulnerable people. In addition, weak implementation would add the risk of maladaptation, such as investment on irrigation canal without considering the longer term impact of climate change on water flows and landslides. Another example would be investment in public cold storage for agriculture produce in area where there is long term climate change risk and misuse of resources in unintended areas that might negatively affect the climate targets.
Why do you think some countries are more successful in mobilising climate finance, especially from external sources, than others? Brazil receives US$711.3 million, followed by Mexico (US$666.1 million) and Morocco (US$628.3 million), according to the Climate Fund Update. These are middle-income countries with a lot of resources. Meanwhile, some vulnerable countries receive almost nothing collectively. Does their ability to negotiate have anything to do with it?
Certainly, the ability to negotiate has some impact on how successful a country is in accessing financial resources. In addition to negotiation skills, the other equally important consideration is its institutional capacity to access funds, such as having "capable" institutions with robust administrative and financial systems. It also related to human resources, which is required to understand the cumbersome process and write bankable proposals. But I also think this is also related to power relations at regional and international level.
The Sustainable Development Goals (SDGs) have many climate-related components, as well as a dedicated climate goal. What are some of the ways that the SDGs will influence the planning and practice of development in Nepal in the coming years?
I am sure the SDGs including climate change action are to be considered as important guidelines for development planning and management in Nepal.
Nepal has already done a lot of ground work in devising institutional frameworks: it has a climate change policy, a National Adaptation Programme of Action (NAPA), a Local Adaptation Plan of Action (LAPA), and many more. The government has also emphasised climate compatible development as one of the important development strategies for investing. Recent sectoral plans, such as the Agriculture Development Strategy and the National Biodiversity Strategy, address climate change concerns.
Now, international initiatives such as the SDGs and the UNFCCC process call for strengthening resilience and adaptive capacity to climate-related disasters in developing and least developing countries; integrating climate change measures into national policies, strategies and planning, and improving education, awareness raising and human and institutional capacity.
The international community has expressed its commitment to provide financial resources to vulnerable countries and some climate financing mechanisms have been instituted. There are other equally important initiatives being developed. These institutions can enable least developed countries like Nepal to access financial and other resources to address climate change impacts.
Image, right: high mountain agriculture in Nepal, courtesy Asian Development Bank - ADB.
Comments