Wiki4Climate - improving the global knowledge on climate change through Wikipedia
Wiki4Climate - improving the global knowledge on climate change through Wikipedia
Share this:
Story detail:
From 24th November to 1st December 2020, over 100 people gathered online for Wiki4Climate, a week of Wikipedia editing on climate change topics, organised by CDKN and FCFA and with support from experienced Wikipedia editors. 
Following on from Africa's first Wikipedia edit-a-thon on climate change that was hosted in-person in 2019, the online event Wiki4Climate had participants join from 61 countries around the world, with the largest number of participants from Nigeria, South Africa, Ghana, Kenya and India. 
The aim was to equip anyone interested in climate change with the skills to edit and add climate change content and examples (especially from the Global South) onto Wikipedia. 
Why improve climate change content on Wikipedia? 
Wikipedia ranks 13th in the list of most popular websites in the world and receives over 23 billion page views a month. In addition,  it is often the first port of call for many (including the youth) to get an overview on a topic such as climate change, highlighting the importance of accessible and accurate climate information, especially in the era of fake news and misinformation. 
"If we want to avoid misinformation and fill information gaps it's our responsibility to ensure that people going to Wikipedia are finding robust and accessible information" said Katharine Vincent (Kulima Integrated Development Solutions) in the webinar: How to contribute climate change information to Wikipedia.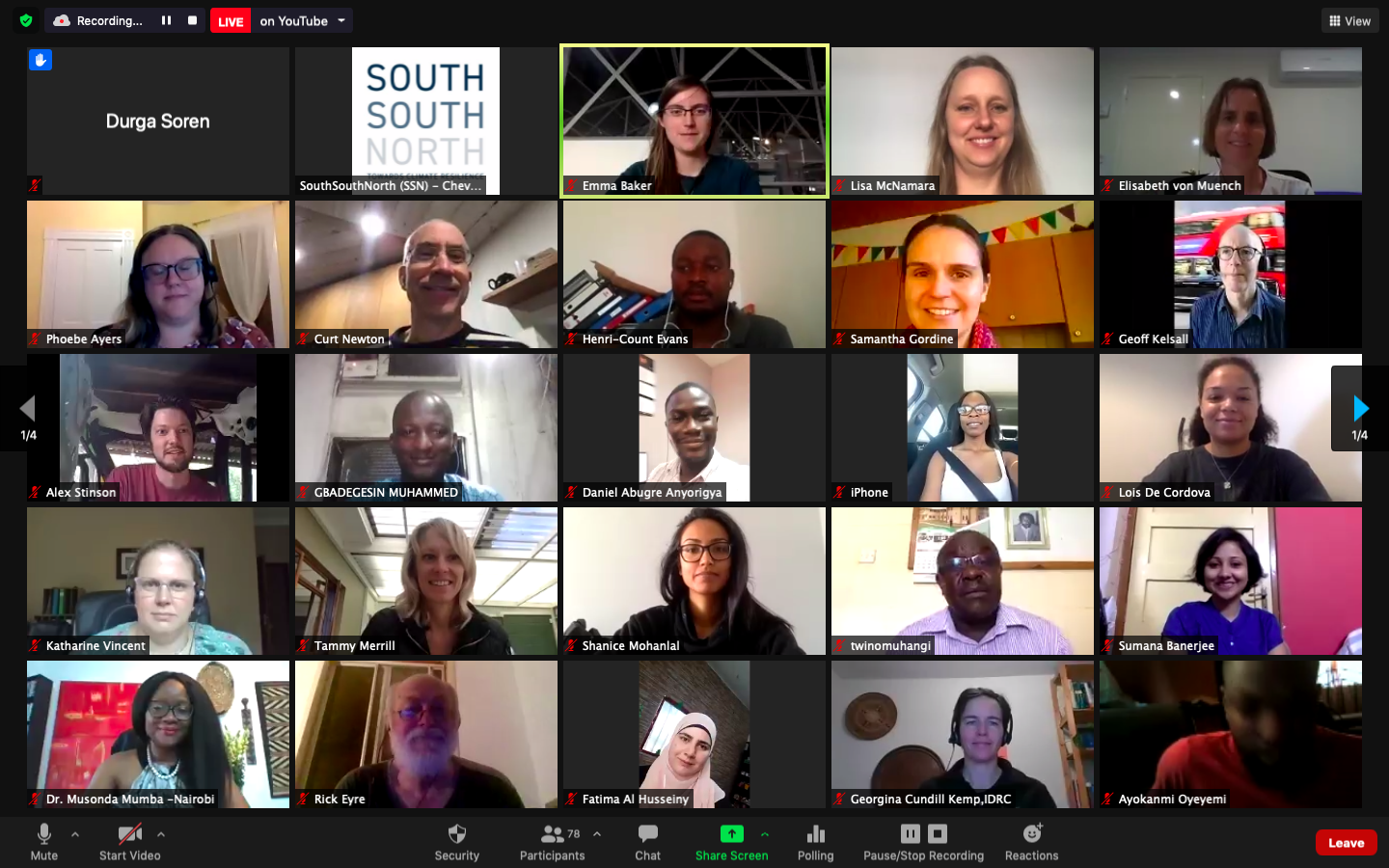 Group photo from the opening session of Wiki4Climate
There have been 87 million pageviews of climate change related Wikipedia pages over the past year, which is over 238,000 page views a day. These numbers clearly illustrate the power of Wikipedia and the importance of ensuring that climate change information on Wikipedia is representative of the global knowledge on climate change, in particular ensuring more contributors and content from the Global South.  
"We have the opportunity to use Wikipedia to support activists and implementers in more contexts, providing evidence based communication that reaches a broader audience," - said Alex Stinson (Wikimedia Foundation) in the webinar: How to contribute climate change information to Wikipedia. 
What was achieved during Wiki4Climate? 
The event brought together 68 active editors working on over 200 climate-related Wikipedia pages and contributing over 2,300 edits.  For example, the Water in Africa article was improved by adding relevant images, restructuring and re-writing sections of the introduction, adding information on groundwater, surface water and more detail on the impact of climate change on water scarcity. There were even a couple of new Wikipedia pages that were created such as Climate Change in Nigeria.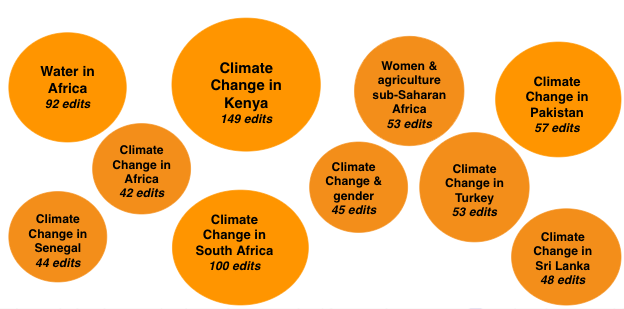 The top 10 climate-related articles that were edited during Wiki4Climate
The large number of edits and diverse range of climate-related pages tackled illustrates how through Wiki4Climate, the quality and quantity of climate change information on Wikipedia has been enhanced. It also served to grow the editing community by bringing in a number of new editors. New editors were able to ask experienced Wikipedia editors questions and advice in either the Wiki4Climate Slack workspace or by attending the daily Zoom check-ins. These spaces enabled editors to connect and collaborate and to help foster a sense of community. 
"We have been able to build a community of climate change editors whose confidence and skills were enhanced during this event" said Euphemia Uwandu (Wikipedia mentor) at the closing session of Wiki4Climate.
Ten editors were rewarded with prizes for the most valuable contributions during the event, particularly contributions to climate change topics related to the Global South. 
"I edited articles on Climate Change in South Asia, India and Climate Change in Bangladesh... Overall [it] was a great experience. I had never edited an article before this and I now have the confidence to continue. I learnt that Wikipedia is extremely important when it comes to tackling an issue like climate change in terms of sharing information especially when sharing information from different local perspectives on a global platform." said Vidur Mithal, one of the prize winners from India, at the closing session. 
What next?
Although Wiki4Climate is over for now, the efforts to improve climate change content on Wikipedia will not slow down. Closing comments from participants highlighted the energy and enthusiasm from all that this is just the beginning and that many will continue on their climate change editing journey. 
"It's important to do anything that we can do to build the community and reflect the diversity of knowledge... we need to keep looking for the voices of experts, activists and researchers and bring them into spaces like Wikipedia." - said Alex Stinson (Wikimedia Foundation) at the closing session of Wiki4Climate. 
It's not too late to join and start editing on climate change:
Join the Wiki4Climate Slack workspace - this will continue to be used as a space for connecting and collaborating with climate change editors. 
Any questions? please email wiki@southsouthnorth.org
Comments