Clik Hub, network of networks to enhance knowledge for climate action
Clik Hub, network of networks to enhance knowledge for climate action
Share this:
Story detail:
Non-state actors play a key role in climate agendas -- more than ever before. They are mobilising people and spreading knowledge in diverse and tangible ways. One example is Clik Hub, a newly-launched initiative from CDKN. The Hub has brought together representatives of 18 Latin American networks to create a 'network of networks' for climate action. Maria Jose Pacha, Latin America Knowledge Management Coordinator, reports.
The importance of non-state actors
In Latin America, a range of networks is working on climate change issues. Many of these focus on specific  aspects of the problem: adaptation, low emission development, climate finance, lobbying, communications, capacity-building, and  research, among others. However, a survey conducted by the Accionando Redes para la  Estabilidad Climática initiative in 2018 identified the lack of capacity for knowledge management to be a barrier to these networks' effective functioning and impact. This survey by Accionando Redes (supported by CAN and Avina's ActionLAC) highlighted how strengthening knowledge management can contribute to achieving to the long-term goal of the Paris Agreement.
Building on this initial effort, CDKN identified 18 networks working on climate issues and launched a Climate Knowledge Hub (Clik Hub).
18 networks convene in Quito
The Clik Hub is a group of institutions that have complementary experience on specific climate topics, recognise the importance of learning, and know how to nurture it.  To shape the Clik Hub, representatives of 18 networks met in Quito from 18-20 June 2019 to define objectives, a way of working together and an action plan.
The idea is to capitalise on and enhance the efforts of individual networks and so drive greater climate ambition in the region. The 18 networks that make up the Clik Hub are:
CITE – FLACSO: Centro de Investigaciones de Politicas Publicas y Territorio de la Universidad FLACSO
Avina/ActionLAC
CAN-LA (Latin American branch of CAN)
Red Regional de Cambio Climático y Toma de Decisiones (Regional Network on Climate Change and Decision-making)
Engajamundo: Red de Voluntarios Jóvenes de Brasil (Network of Brazilian Youth Volunteers)
GFLAC- Grupo de Financiamiento Climático para América Latina y el Caribe (Latin American Group on Climate Finance)
ICLEI – Gobiernos Locales por la Sustentabilidad (ICLEI – Local Governments for Sustainability)
LatinClima, Red de Comunicacion al Cambio Climatico (Climate Change Communcation Network)
Soluciones Practicas (Practical Action Peru)
RAMCC: Red Argentina de Municipios frente al Cambio Climático (Argentinian Network of Municipalities Against Climate Change)
Red Chilena de Municipios ante el Cambio Climático/Adapt Chile (Chilean Network of Municipalities Against Climate Change)
Red Latinoamericana de Inventarios Nacionales de Gases de Efecto Invernadero (Latin American Network of National Green House Gas Inventories)
Oficina Regional para América del Sur de UICN (South American Regional Office of IUCN)
Red de Ciudades Sostenibles y Resilientes de Perú (Network of Sustainable and Resilient Cities of Peru)
[caption id="attachment_91764" align="alignnone" width="700"]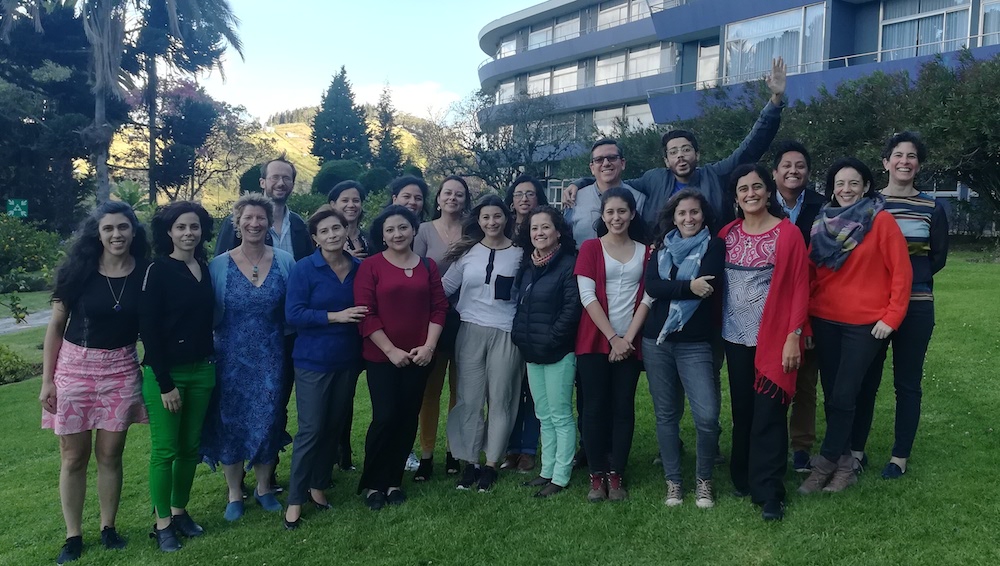 Participants gather in Quito last week for the launch event[/caption]
Amalgamating activities boosts the networks' collective impact. A quick estimate indicates that the above networks directly reach 1,850 journalists, 2,000 young people, more than 400 mayors of cities in the region, technical experts in greenhouse gas measurement from 14 countries, 600 people who participated in training processes for climate action, 1800 members of governments, civil society and academics.
"Clik Hub fills a void," says Gabriela Villamarin, CDKN Coordinator for Latin America. "In the region, we need a space for confluence. We all work on the issue of climate change in different spaces and with different angles. What we need is to convene these networks to create synergies. We need to collaborate to be able to amplify our impact and achieve greater climate action."
After several intensive days of meetings, members agreed that CliK Hub should aim to connect and articulate, enhance and disseminate the knowledge and experiences of diverse actors for the purposes of advocacy and advancing climate action. Clik Hub will focus particularly on two goals:
(a) promote learning and collaboration among Clik Hub members on good practices and lessons learned in effective knowledge management and climate action with impact; and
(b) capture, aggregate, make more visible, enhance and disseminate the knowledge and experiences of diverse actors, to achieve climate impact and action.
To ensure that Clik Hub is more than just an idea, a Seed Fund was launched to fund four innovative ideas emerging from the group. These activities will be selected in August 2019 and will run concurrently.
Katiana Murillo, Director of Latin Clima, said: "the most important thing about Clik Hub is that formalises alliances and relationships.  On the one hand it facilitates working together, since not all organisations know what others do; and on the other hand, it provides the possibility to work together, not only from individual and isolated projects, but really with a more macro vision. Clik Hub is a step towards having the influence that all the networks are looking for."
Comments