Potential for electric buses to provide Addis Ababa with multiple benefits
Potential for electric buses to provide Addis Ababa with multiple benefits
Share this:
Story detail:
Wondwossen Sintayehu and Charlotte Scott describe how the City of Addis Ababa is considering the use of electric buses in a bid to reduce air pollution overall. Such a development would reduce particulate pollution, which is harmful to local people's health, as well as reduce the greenhouse gas emissions that drive climate change.
Addis Ababa, like many African cities, is rapidly urbanising and doubling in size every decade. Despite the city's relatively low motorisation rate, rapid economic growth has led to an increase in the rate of vehicle registration, indicative of the upsurge in the number of cars on the roads. Today, transport comprises 68% of the city's total emissions. And for urban residents, air pollution is one of the top causes of death, with diesel exhaust from the city's 39,000 diesel buses and minibuses contributing to air toxins. It is estimated that 2,700 premature deaths per year in Addis Ababa are due to exposure to poor air quality.
In 2017, the transport sector was responsible for 60% of PM2.5 non background concentration in the city[1]. PM2.5 refers to fine inhalable particles found in the air with diameters that are 2.5 micrometers and smaller. These particles are small enough to be inhaled and are acutely dangerous because they can penetrate and lodge deep inside the lungs.
Studies from cities in Europe and the US suggest that there is a direct correlation between air pollution and higher death rates in people with Covid-19. The research implies that people in polluted areas are more likely to die from the coronavirus than those living in cleaner areas, and that long-term exposure to NO2 may be an important contributor to fatality caused by Covid-19. Recent analysis estimates that a "small rise in people's long-term exposure to air pollution is associated with an 11% increase in deaths from Covid-19."
Opportunity to make Addis Ababa's bus rapid transit system as clean as possible
In Addis Ababa, the city's mounting gridlock is creating safety and health risks, producing more greenhouse gas emissions and impeding economic development. In response to these challenges, Ethiopia has turned its attention to shifting towards sustainable mass transit solutions. Part of this involves investing in light rail transit (LRT), bus rapid transit (BRT) systems and other mass transport services. The development of two BRT corridors is already underway with a total of 15 planned in the current Addis Ababa city master plan 2017-2027.
As buses have yet to be tendered or procured for the BRT systems, the introduction of zero- emission buses, such as battery-electric buses, on defined BRT corridors or other alternate routes provide an excellent opportunity for Addis Ababa to avoid locking-in local and global emissions from diesel fuelled buses for the next 20+ years. Battery-electric buses have huge local air quality and health benefits because they have zero tailpipe emissions - in addition to their potential benefits in reducing greenhouse gases from the transportation sector, overall.
Ethiopia's Ministry of Transport has emphasised the importance of electric buses in their new 10-year Transport policy, with one of the main goals being to "de-carbonise the country's fleet by introducing 4,850 electric buses".
Planned bus rapid transit lines in the city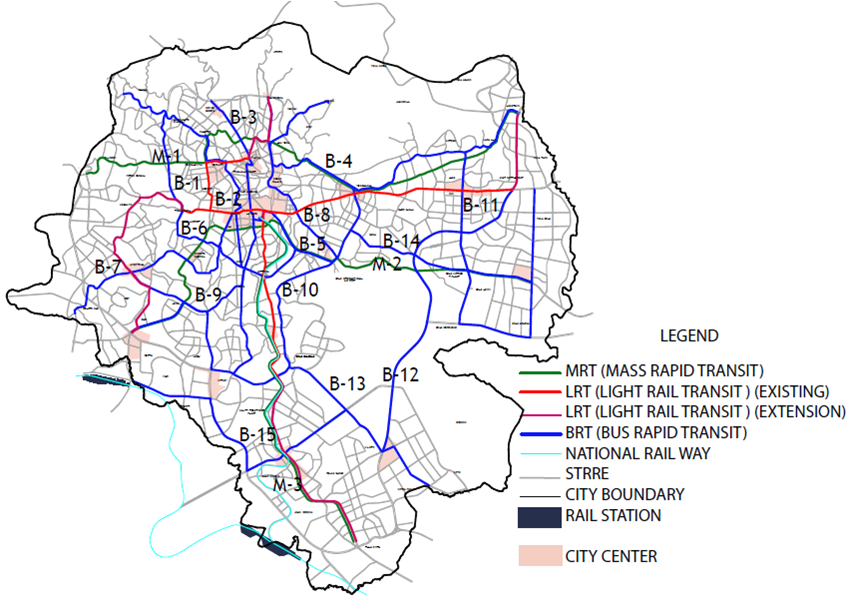 Electric buses: an opportunity to save lives and save money
C40 Cities recently undertook an analysis of the potential benefits of introducing electric buses into the planned BRT lines in Addis Ababa and identified significant benefits in terms of reduction in premature deaths; increase in life expectancy; reduction in hospital admissions for cardiovascular and respiratory diseases and savings from healthcare costs. The analysis estimated that the introduction of electric buses in Addis Ababa's 15 BRT corridors alone would result in 86 premature deaths averted per year.
Despite being more investment heavy, electric buses can lower the total cost of ownership over their lifespans due to large operational and maintenance savings. They could be introduced to the city's fleet through innovative business models with third-party providers and investors without increasing the system total cost. To support this ambition, the Addis Ababa Transport Bureau, partnered with the C40 City Solutions Platform, to facilitate collaboration with actors from the private, public, academic and NGO sectors, to develop scalable and tangible ideas and solutions to procure and deploy electric buses in the BRT corridors  or alternate routes in Addis Ababa. CDKN partnered with C40 in this initiative, which is aligned with the objectives of Ethiopia's Climate Resilience Green Strategy and will help ensure Addis Ababa is on a pathway to reach the goals of the Paris Agreement.
Consultative workshop and perspectives from other countries
On 10-11 November 2020, the City of Addis Ababa held a two-day online co-creation workshop: "Piloting Electric Buses in the City's Bus Rapid Transit System" hosted by the C40 City Solutions Platform along with the Addis Ababa Transport Bureau. The event was co-convened with support from CDKN and facilitators from CLEAN - Denmark's Environmental Technology Cluster and Connected Places Catapult. We were joined by a diverse range of international and local participants, including federal and city-level officials,  NGOs, private companies, academic representatives, consultants and entrepreneurs. Participants based in other African cities, such as Dar es Salaam, Kigali, Nairobi, and a number of South African cities, shared some of the challenges and successes from their own experience.
Participants from Johannesburg, for example, emphasised the importance of including land-value capture (LVC) tools when developing BRT. LVC is one approach for local government to finance the cost of transport infrastructure without relying solely on fares. Relying on fares to subsidise the cost can make it harder to implement public transport in lower-income areas and along less densified routes, which has been a challenge for South African cities. There are lots of different land-value capture measures that cities can use which all aim to extract the increase in value (sometimes through property taxes or other measures) of the land around the BRT infrastructure which resulted from the public investment in it. But using LVC tools also has to be balanced with ensuring affordable access to land within the city.
The two-day workshop consisted of interactive, online sessions starting with unpacking the challenge and identifying barriers, whilst the second day zoomed in on co-creating solutions in small groups and pitching their ideas to a panel of senior city government officials. Pitches included influencing an enabling policy environment for e-mobility,  the development of an open source and integrated platform to collect and monitor electric bus data from multiple stakeholders, the development of a technology route evaluation tool to support the Addis Ababa Transport Bureau to select the best BRT corridor for the roll-out and a charging strategy to accommodate interruptions in power supply from the electricity grid, finance to support the development of electric-buses and their infrastructure,  and community driven engagement .
Addis Ababa Transport Bureau, supported by the C40 team, will analyse and evaluate the solutions pitched in the workshop to outline a pathway for implementation that is in line with national and municipal ambitions to decarbonise their transport sector and introduce electric mobility for a cleaner, safer, more sustainable and inclusive transport system.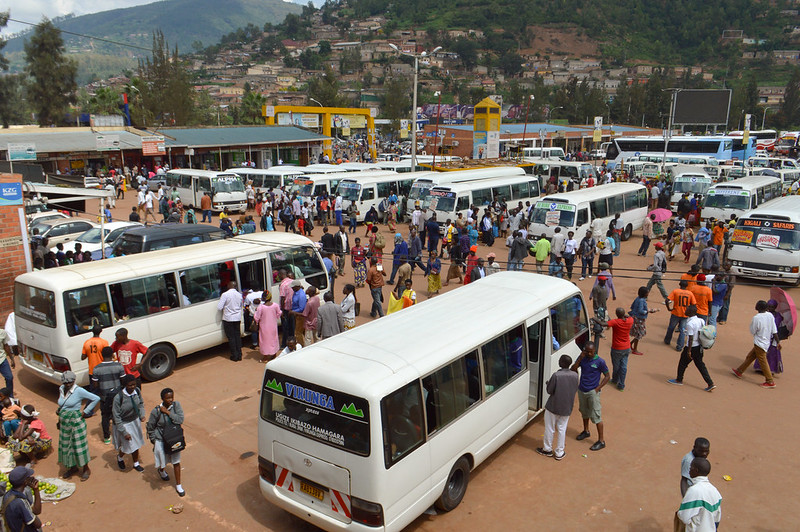 Image: above: Kigali, Rwanda (shown here) was one of the places to send representatives to share their experience with Addis Ababa city officials. Image courtesy Francisco Anzola.
Image: above, right: line of mini-buses in Addis Ababa street. Time to modernise? Image courtesy skatkat, flickr.
[1] The non-background concentration is calculated by subtracting the background from the average concentration – what remains indicates the city's contribution to its average pollutant levels.
Comments