INFOGRAPHIC: Impact of climate change on Small Island Developing States
The IPCC has produced the most comprehensive assessment of climate change ever. The Fifth Assessment Report (AR5), is the work of 830 expert authors from 85 countries and its first three volumes already stretch to 5,000+ pages. Now, the Climate and Development Knowledge Network (CDKN) and the Overseas Development Institute (ODI) have created two succinct guides to the assessment for decision-makers in Africa, South Asia and Small Island Developing States; the following are infographics from What's in it for Small Island Developing States and are intended to encourage understanding and discussion of the report worldwide.
This infographic shows the impacts of climate change on small islands.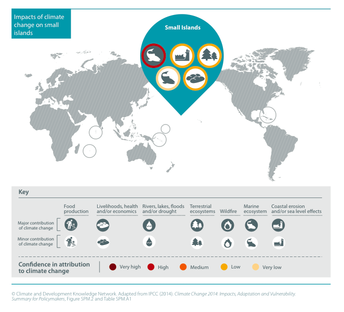 Guidelines for using the Media Toolkit
Guidelines for using images
Infographics and presentations
The infographics and presentations offered as part of one of our initiatives are intended to be used for educational purposes and to generate discussion around the reports.
Images
The images presented as part of one of our initiatives are free to use by journalists or educators in connection with the activities of the initiative. However, they are licensed only for this purpose, so to monitor access to the images, we require that interested parties submit their details to be granted permission to download the images.
Register for FREE now
This work is licensed under a
Creative Commons Attribution-NonCommercial-NoDerivatives 4.0 International License
.
Please take a moment to read the terms and conditions.