Social media awards: #Art4Resilience
Social media awards: #Art4Resilience
Share this:
Story detail:
Students and young professionals are encouraged to submit visual and audio entries that depict what they and their communities are doing to tackle the impacts of climate change. Apply by 16 October to stand a chance to win US$1000, be showcased at key events and have your work displayed on the Resilience Knowledge Coalition's social media channels.
Why social media?
Social media presents an exciting opportunity for young people to exchange innovative and transformative solutions to the harsh impacts of climate change. We aim to celebrate the brilliant minds of the future who are passionate about climate action in their communities. All students and young professionals are invited to submit visual and audio content depicting what resilient steps they are taking to adapt in a world of uncertainty.
About the contest
Theme: What are you and your community doing to build resilience to the impacts of climate change?
Are there any innovative solutions in your community?
How are you accelerating climate action in your community?
All entries must: 
Address a challenge in your community/country in relation to the impacts of climate change
Provide opportunities for building and enhancing resilience in your community
What to submit:
Please submit either of the following:
30-60 second visual or audio entry of any format: short films, interviews, documentaries, poems, songs, etc.

 

Please provide subtitles with all video and audio entries, provide English translations of entries not submitted in English or French, and provide a script of your entry to ensure the content is translated properly. 

A series of photos telling your story.
How to submit:
Complete this Google Form by 16 October 2022.
Social Media: Entrants may submit their material by posting on Twitter, Instagram, LinkedIn, Facebook, TikTok or an unlisted YouTube link. Be sure to use the following hashtags: #COPResilienceHub and #Art4Resilience
Google Drive link: Entrants may submit material via Google Drive. Please grant jkimaiyo@globalresiliencepartnership.org access to all links and use your name and country as the name of the drive folder.
WhatsApp: Entrants may submit audio and visual materials via WhatsApp. Please email jkimaiyo@globalresiliencepartnership.org if you would like to make a submission via WhatsApp. 
Submit your entry early to increase your chances of getting featured. Submissions will be reviewed daily.
This contest is for the youth at heart and open to all countries except the Crimea region of Ukraine, Cuba, Iran, North Korea and Syria.
For any questions, please contact jkimaiyo@globalresiliencepartnership.org.
Image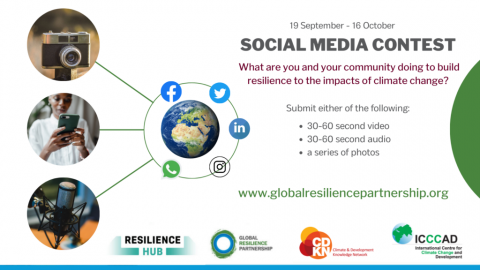 Photo: Resilience Knowledge Coalition
General liability release
By participating in this competition, each entrant agrees:
That the submission is the entrant's own original, previously unpublished, and previously unproduced work; any entrant who incorporates any intellectual property or material owned by a third party into his or her submission does so at his or her own risk.
That they grant GRP, CDKN, ICCCAD the right to, use the submission in connection with the contest and marketing and promotion of the contest; and use this material in future communications material and collateral. The entrant will be properly credited when content is used. That this contest is in no way sponsored, endorsed or administered by, or associated with Instagram or any other social media channel, and that you are providing your information to GRP, CDKN, ICCCAD and not to Instagram or any other social media channel.
By submitting an entry for consideration in the contest, the entrant agrees to be bound by the contest's participation guidelines and GRP's Privacy Policy.
Comments