How can grants effectively support locally-led adaptation: Three key insights from Africa Climate Week
How can grants effectively support locally-led adaptation: Three key insights from Africa Climate Week
Share this:
Story detail:
Guy Rudolph and Esperanza Karaho from CDKN share their insights from a breakfast discussion held on the sidelines of Africa Climate Week in Nairobi. The gathering involved both grant-makers and grant recipients and focused on answering the question: 'How can we design our funding programmes to best support locally-led adaptation?'
More than 80 organisations have endorsed the eight locally-led adaptation (LLA) principles. However, for many organisations, putting these principles into practice has proved a challenging endeavour. Providing financing is one mechanism where these principles come into play and where rich learnings need to be shared between funders - including grant-makers and small business financiers - and fund recipients - including local small businesses and LLA projects.
CDKN and the Global EBA Fund co-hosted a breakfast meeting together with representatives from nine other organisations, including the Global Centre for Adaptation (GCA), Slum Dwellers International (SDI) Kenya, Kounkey Design Initiative (KDI), Global Resilience Partnership (GRP), Prolinnova Kenya, Global Innovation Fund (GIF), ICLEI Africa, Africa Research and Impact Network (ARIN) and the Kenyan Climate Innovation Centre (KCIC) to share experiences and explore possible alignments. Three key insights emerged from this discussion.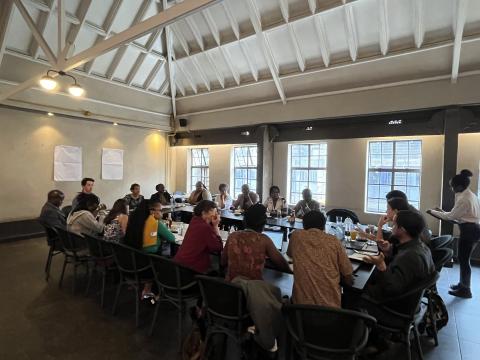 Taking a programmatic approach
'We must develop a programmatic approach to supporting LLA, as opposed to a project approach.' – Anju Sharma (GCA) 
To support more sustainable initiatives, Anju Sharma recommended the approach adopted by the GCA where funds are directed towards supporting existing locally defined resilience programmes, such as Liberia's Urban Resilience Programme and Kenya's Mukuru Special Planning Area (SPA). These programmes are cross-sectoral, were started by the community and are integrated within government. Where these broader resilience programmes don't exist, participants agreed that grant-makers should look to work in consortia to consolidate their impact in particular areas. This can have a big impact if different projects with different funders working in the same locality are able to collaborate and build on each other's work. Kournkey Design Initiative and SDI Kenya are great examples of this. They have signed a Memorandum of Understanding and often collaborate to support work in Mukuru, Nairobi. Killion Nyambuga, from SDI, emphasised the importance of donors and grant-makers offering greater flexibility in resource allocation. This ensures that small grants support people who may otherwise be hard to reach and promote solidarity within local communities. 
Integrating with local government 
Shreya Das, from the GIF, highlighted how difficult it is to identify suitable projects that can scale and meet the funding expectations of larger finance providers. This was a sentiment echoed throughout the Africa Climate Week events. Joint work planning, co-creation of projects and aligning with local government priorities present opportunities for collaboration, consolidating resources and fostering government ownership. Government adoption and ownership is absolutely critical to the long-term success, scalability and sustainability of an initiative. 
To achieve integration, Ernest Chitechi, from the KCIC, described a successful strategy for integration – projects need to identify the local needs and then build in an "entrepreneurial approach" to ensure that these local needs are aligned with local government priorities. For integration to be successful, Ernest identified four key points: the objectives and activities of the business or project must be simple and easy for government officials to understand, they must align with existing government key performance indicators and they must consider if they are aligning with national or provincial government budget lines. 
A number of participants also emphasised the significance of having a government actor who can champion the initiative. Bongiwe Simka, from ICLEI Africa, described how it is easier to gain support from local governments when initiatives are tangible and easy to showcase. Esperanza Karaho, from CDKN, took this a step further, highlighting how collaboration with the government can facilitate scalability. She exemplified this concept through the County Climate Change Fund (CCCF) mechanism. The Adaptation Consortium's (ADA) involvement in piloting and designing the CCCF within Kenyan counties included a strong and collaborative partnership with local government agencies in Kenya. Given its success, the national government has now prioritised the CCCF scale out in the second National Climate Change Action Plan (NCCAPII).
Supporting capacity to access funding
One of the key challenges echoed by numerous participants revolves around the difficulty local organisations face in securing funding, primarily because of the rigorous eligibility criteria associated with major funding mechanisms. Norah Ng'eny, from the Global EbA Fund, provided information on the Fund which is a catalytic mechanism for innovative and inclusive EbA projects. Norah mentioned that the Fund has attracted interest from a broad range of applicants. Over 1,000 submissions have been received from the first four calls for proposals, registering an eligibility rate of 37% which is comparable to similar sized regranting mechanisms. However, applications from local organisations have been relatively low and the Fund is taking specific actions to attract these applicants.
On the other hand, the CDKN knowledge to action grants received a similar number of applications, with 90% of applicants meeting the eligibility criteria – although CDKN's grant is only providing half the funding. It was agreed that there is a general need to build the capacity of grantees to write funding proposals and to build internal institutional structures and processes that pass strict due diligence requirements.
Participants contributed examples of how they are supporting local capacities. Gerald David described how the GRP has established leadership and business management academies to support local champions, while Ernest added that the KCIC provided tailored funding to small businesses that always includes a capacity building component.  
Reflections and future plans
The value of sharing these rich learnings was evident and almost all participants continued discussions long after the allocated time. There was significant interest in developing a working group where grant making organisations working to support LLA could share experiences and improve collaborations. Leah Aoka, from the ARIN, agreed to host a follow-up discussion in early 2024. 
Read more about CDKN's involvement at Africa Climate Week here.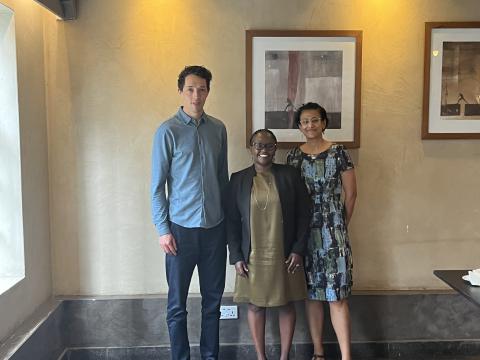 Comments