The Philippines' challenge for urban resilience
The Philippines' challenge for urban resilience
Share this:
Story detail:
Danica Marie Supnet of the Institute for Climate and Sustainable Cities, highlights the proceedings of the series of workshops and community discussions on bridging the gap between local climate change adaptation planning in the urban sector and access to climate finance.  
Developing regions such as Southeast Asia show the highest urbanisation rates, thus representing some areas that face significant challenges in urban resiliency. Cities are dynamic places where resilience is critical to avoiding prolonged or irrevocable outcomes of slow onset climate change impacts and stresses on urban systems. Among these areas in the region are second-tier cities such as Cagayan de Oro City in the Philippines.
Cagayan de Oro is one of the cities in Northern Mindanao that was devastated by Tropical Storm Washi ("Sendong") in 2011, which caused catastrophic flash floods, costing billions of pesos in damages and lost lives. This extreme weather event tested the resiliency of the "Kagay-anons", (the local people of Cagayan de Oro) challenging its local government to continuously improve their disaster risk reduction and climate change adaptation (DRR-CCA) programmes.
Cagayan de Oro's existing adaptation measures are geared toward disaster rehabilitation, which is a common practice. However, this limits the capacity of the community to become proactive rather than reactive to current situations.
Under a CDKN project 'Finding the Finance: Climate compatible development in Asian cities', Germanwatch and the Institute for Climate and Sustainable Cities partnered with Xavier University—Ateneo de Cagayan organised series of workshops and community discussions on bridging the gap between local climate change adaptation planning in the urban sector and access to climate finance. Through these events, participants from various communities, government sectors, and key officials all recognised climate change as a growing concern in Cagayan de Oro.
Slow-onset impacts of climate change such as changes in temperature that result in changes in topography, unpredictable weather conditions, health related risks and water supply insufficiency have affected settlers from the upland and city centre, as well as the livelihood of farmers and fishing communities. Furthermore, power shortages causing city-wide power interruptions have become relatively frequent and their effects are particularly evident in the business sector.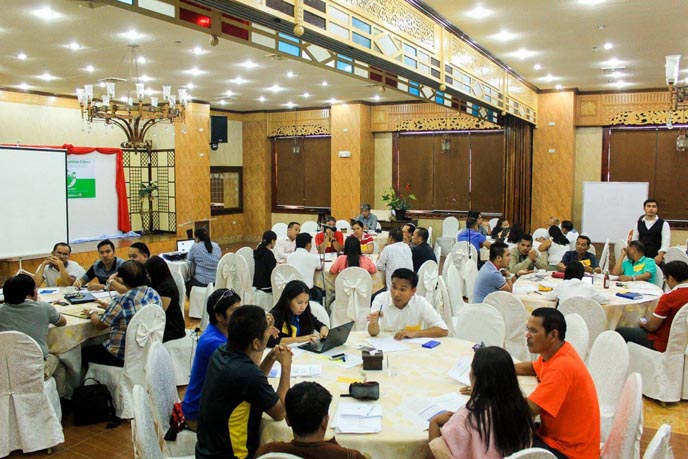 The participants identified various measures to identify risks and vulnerability in the communities such as indigenous knowledge systems, government-interceded risk monitoring, and research. On the other hand, adaptation measures (disaster risk reduction, policy creation, engineering solutions, environment-friendly alternatives) and mitigation measures (solid waste management, promotion of alternative energy sources, greening programmes, arresting denudation) were identified as priority plans to support their DRR-CCA programmes.
However, despite the recognition of the participants that these policy tracks are vital, a stakeholder analysis conducted by Xavier University reveals the challenge of striking a balance between (political) power dynamics, the interest of the different sectors and stakeholders, and the availability of financing mechanisms that can support adaptation projects down to the grassroots communities.
The local government's officials perceive disaster risk reduction management as necessary but insufficient to address climate change, especially with the lack of other financing opportunities apart from the allocated budget from the national government. However, they believe that strong governance is a requisite to push for climate change actions in the locality. ICSC and Xavier University steered the synergy of the local government in a planning assembly for the People's Survival Fund (PSF) and Green Climate Fund (GCF). The meeting involved different sectors of the government as well as civil society organisations and an academic institution (XU) to plan for an adaptation (and mitigation) programme that the local government can propose to these funding mechanisms. The local government recognised the position of Xavier University as a support through science based research and development.
Sharing experience, insights, and technical knowledge does not stop with the successful undertaking of the climate-compatible cities workshop. The end goal was to encourage stakeholder partnership to deliver development-enhancing services in the integration of mitigation and adaptation programmes through climate-sensitive local planning and implementation.
The experience shows how greater engagement with institutions such as Xavier University, Germanwatch, local based government agencies, as well as community leaders (barangays) can promote better dialogue, yield greater ownership, and motivate a city's diverse stakeholders to work towards common aims.
Comments