Bangladesh's Delta Plan 2100 offers major opportunity for climate compatible development
Bangladesh's Delta Plan 2100 offers major opportunity for climate compatible development
Share this:
Story detail:
Millions of livelihoods in Bangladesh's vast delta region are at risk from climate change impacts this century: the Bangladesh Delta Plan 2100 aims to tackle these risks head on and turn them into opportunities for the region's people. Jubaer Rashid of CDKN Asia describes the multi-institutional effort involved to bring the plan to reality.
Bangladesh Delta Plan 2100: strategic document to help reduce climate risks
Bangladesh has been ranked 7th again in Global Climate Risk Index 2020, as the most vulnerable country around the world to climate change. With increasing climate risk, the country has been dealing with frequent floods, cyclones, salinity, livelihood and biodiversity losses, reducing wetlands, impact on agriculture and food resources.
To address these challenges, the Government of Bangladesh has formulated climate change policies, including
These all support climate actions by public and private agencies. However, these policies are sector wise and followed by different ministries. An integrated long-term policy was expected for the country to take coordinated actions and allocation of budget.
The Bangladesh Delta Plan 2100 (BDP 2100) integrates all these individual sectoral plans and approved in 2018 by the Government of Bangladesh. The General Economics Division of the Bangladesh Planning Commission began working on BDP 2100, with the support of the Government of Netherlands, in 2011-12.
The process for creating the BDP 2100 included a Bangladesh and Netherlands intergovernmental committee, a national advisory committee, a national steering committee, an implementation committee and a project management unit. This rigorous process also involved inter-ministerial focal points, a panel of experts and stakeholder consultations.
BDP 2100 is a strategic and comprehensive planning document that covers the longest period (50-100 years) and also one that identifies and prioritises investable sectors for action to reduce climate risk and environmental losses in the delta region. One of the most useful features of the document is its flexibility – it allows for addition and amendments as and when new information becomes available.
Climate risks in delta region
Bangladesh has the largest deltaic region and floodplain in the world, comprising the deltas of three trans-boundary rivers – the Ganges, the Brahmaputra and the Meghna - all flowing downstream into the Bay of Bengal. Climate change is a serious threat to this deltaic and coastal area due to rising sea levels, resulting in frequent flooding and increasing salinity in the region. Apart from this, there are major hydrological risks, such as of river bank erosion, land subsidence and siltation. All these risks cause long-term impacts on livelihood, migration and economic security
BDP 2100 is aligned with national goals and outlines policies for six proposed hotspots and other cross-cutting areas that are focused on flood risk management and freshwater conservation. These six hotspots – Barind and Drought-Prone Areas; Chittagong Hill Tracts (CHT); Coastal Zone; Haor and Flash Flood Areas; River Systems and Estuaries; and Urban Areas - have been proposed on the basis of analysis from eight hydrological regions identified in the National Water Management Plan 2004, and their hydrological characteristics and climate risks. A definition of hotspots has been also provided in Chapter 1: "Hotspots are prototypical areas where similar hydrological and climate-change vulnerability characteristics and problems converge (such as sea-level rise, river erosion, intensity of flooding, water shortage, siltation constraints, etc." (BDP 2100).
Bangladesh Hydrological Zones
Delta Plan Hotspots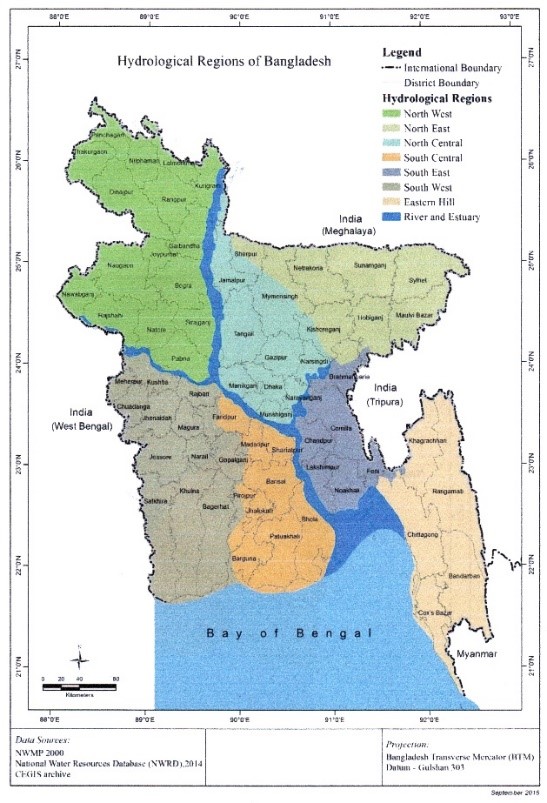 Source: BDP 2100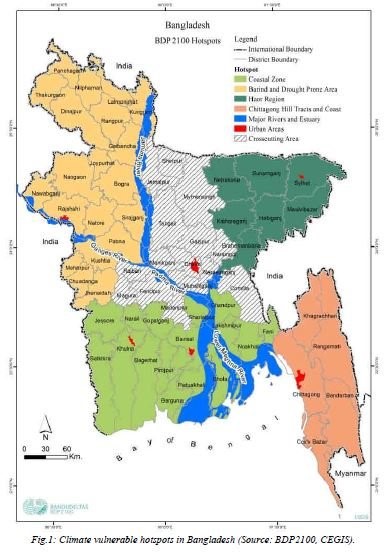 All eight hydrological regions (shown in the map) are covered by the six hotpots. The major climate risks identified at these hotspots are:
Barind and Drought-Prone Areas – rising temperature, drought, reduced groundwater levels, reducing wetlands
Chittagong Hill Tracts (CHT) – loss of forest and vegetation cover, flash floods in hilly terrain
Coastal Zone – tidal fluctuation, accelerated sea level rise (ASLR), salinity intrusion with sea-level rise, cyclones, storm surges
Haor and Flash Flood Areas – precipitation, subsidence and decreased sediment supply, land filling, encroachment, land use change
River Systems and Estuaries – riverine erosion and accretion, drought, river avulsion, sedimentation offtake, subsidence, tidal fluctuation, sea-level rise, flash floods in hilly terrain and dry periods
Urban Areas – urban sprawl, unplanned settlements and development, falling groundwater levels, faecal sludge and industrial effluents, air and noise pollution, sea-level rise and increase in precipitation
District-wise natural hazard ranking has also been done for 64 districts of the country, which showed that floods and river erosion were the most common hazards faced by a majority of the districts.
Adaptive measures to reduce risks
Risk reduction strategies have been proposed for the period until 2050, based on the baseline study in 2015. Though the initial delta agenda covers the period until 2050, the plan has a long-term vision until the end of 2100. These strategies aim to achieve the long-term goals step-by-step. Thus the strategies have been categorised for the national level, and as per hotspots and other cross-cutting issues. The development of these strategies is considered to be in line with the projected business-as-usual (BAU) climate scenarios of the country and with expert reports. The adaptive pathways have been drawn into the plan based on a set of strategies and sub-strategies for the national level, each hotspot and other cross-cutting issues.
The strategies for Barind and drought-prone areas focus mainly on drought in Natore, Bogra and Thakurgaon districts; groundwater decline in Bogra, Dinajpur, Joypurhat and Naogaon, besides Pabna, Rajshahi and Rangpur districts; floodplain connectivity and degradation of wetland ecosystems in Chalan Beel area; floods and drainage congestion in Atrai basin; and water supply and sanitation in all regions.
The Barind hot spot strategy aims to balance supply and demand of freshwater, in support of sustainable growth.
On the supply side, immediate plans include deep groundwater development and expansion of irrigation to provide farmers with more water; but by 2050, the plan is to also increase recycling of wastewater to help meet people's needs.
On the demand side, the aim is to introduce less water-hungry crops and far more efficient irrigation systems, to make freshwater go further. By 2050, full cost water pricing schemes and precision irrigated agriculture could curb water demand to sustainable levels.
Further measures planned in Barind include: undertaking ecological restoration works and creating groundwater protection zones in the decades to 2050.
By the end of the century, the hot spot strategy sees Barind benefiting from a wider range of infrastructure and integrated management processes in the Brahmaputra-Ganges basin, such as joint water resources development and protection across the basin, a Brahmaputra barrage and the practice of low-impact, high-intensity agriculture.
The strategies for the rest of the hotspots also incorporate plans for specific risks and the regions they impact; these are expected to be implemented with the help of both public and private expenditure.
Implementation process
The implementation of BDP 2100 is planned to be supported by the development of a Delta Act, the establishment of a Bangladesh delta governance council, Bangladesh delta commission, Bangladesh delta fund and a delta knowledge portal and data bank, besides a monitoring and evaluation system. General Economics Division has the overall responsibility of coordinating, monitoring and implementing this plan. These could be extremely fruitful if the concerned ministries could carry out their responsibilities, as they would be undertaking the implementation of the approved projects under BDP 2100. However, they need a large amount of investment and proper maintenance of existing projects.
The cost of implementing BDP 2100 has been estimated at US$ 38 billion in its Investment Plan (2017-2030). This includes 65 infrastructure projects and 15 institutional and knowledge development projects in the six hotspots. The Investment Plan also aims to get 427 million USD from private finance over the first 10 years (World Bank 2017) and to increase private investment in the later stages.
Supporting research
The Institute of Bangladesh Water and Flood Management (IWFM) at the Bangladesh University of Engineering and Technology (BUET) has been supporting General Economics Division since the formulation of BDP 2100 through ESPA Deltas and DECCMA projects. The IWFM is conducting another research programme, "Evaluation of adaptation trials for coastal livelihoods in GBM delta," which is supported by CDKN Phase II and undertakes field validation for an adaptation model in two coastal regions (Golachipa and Barguna). This adaptation model will also help the Government of Bangladesh and General Economics Division to estimate their future adaptation demands in the delta region, as per BDP 2100.
The Government of Bangladesh needs an increased focus on planned implementation of BDP 2100 as its next step. Apart from the government allocation in Annual Development Programme (ADP), the availability of private financing could potentially be a major challenge in its implementation, since this is largely dependent on successful public-private partnership (PPP). It relies on private financing institutions to be interested and get involved. Different ministries can play a major role in attracting the interest of private agencies for investment. Building capacity, knowledge, and awareness of the benefits of the BDP 2100 need to be spread among all public and private stakeholders, so that coordinated actions can be ensured.
For more information
A new open access book "Integrated Assessment for the Bangladesh Delta Plan 2100: Analysis of selected interventions", edited by Munsur Rahman, Robert Nicholls, Susan Hanson, Mashfiqus Salehin and Shamsul Alam has just been published. The book reports analysis undertaken as part of the ESPA Deltas project. Many of the project's findings are integrated into the Delta Dynamic Integrated Emulator Model (ΔDIEM), which is designed to analyse the present and future of the delta in a policy relevant way in order to benefit the ecosystems, livelihoods and people of the Ganges-Brahmaputra-Meghna delta.
Comments