Adapting to climate change at the local-level
Adapting to climate change at the local-level
Share this:
Story detail:
Climate change adaptation is, in many ways, a local issue. CDKN has supported research in the Caribbean that provides methods and approaches for effective community-based adaptation. The knowledge products below, and the resources on which they are based, can support communities to adapt and to influence national policy and practice.
[caption id="attachment_71612" align="alignleft" width="172"]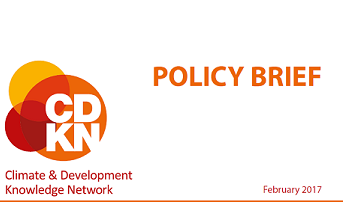 This policy brief shows how community based approaches to local governance can deliver effective climate adaptation at the local level.[/caption]
[caption id="attachment_72835" align="alignleft" width="172"]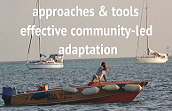 This video gives a brief introduction to some of the methods and tools that can be used by communities to build their climate resilience. The video is also available with Spanish subtitles.[/caption]
[caption id="attachment_72930" align="alignleft" width="158"]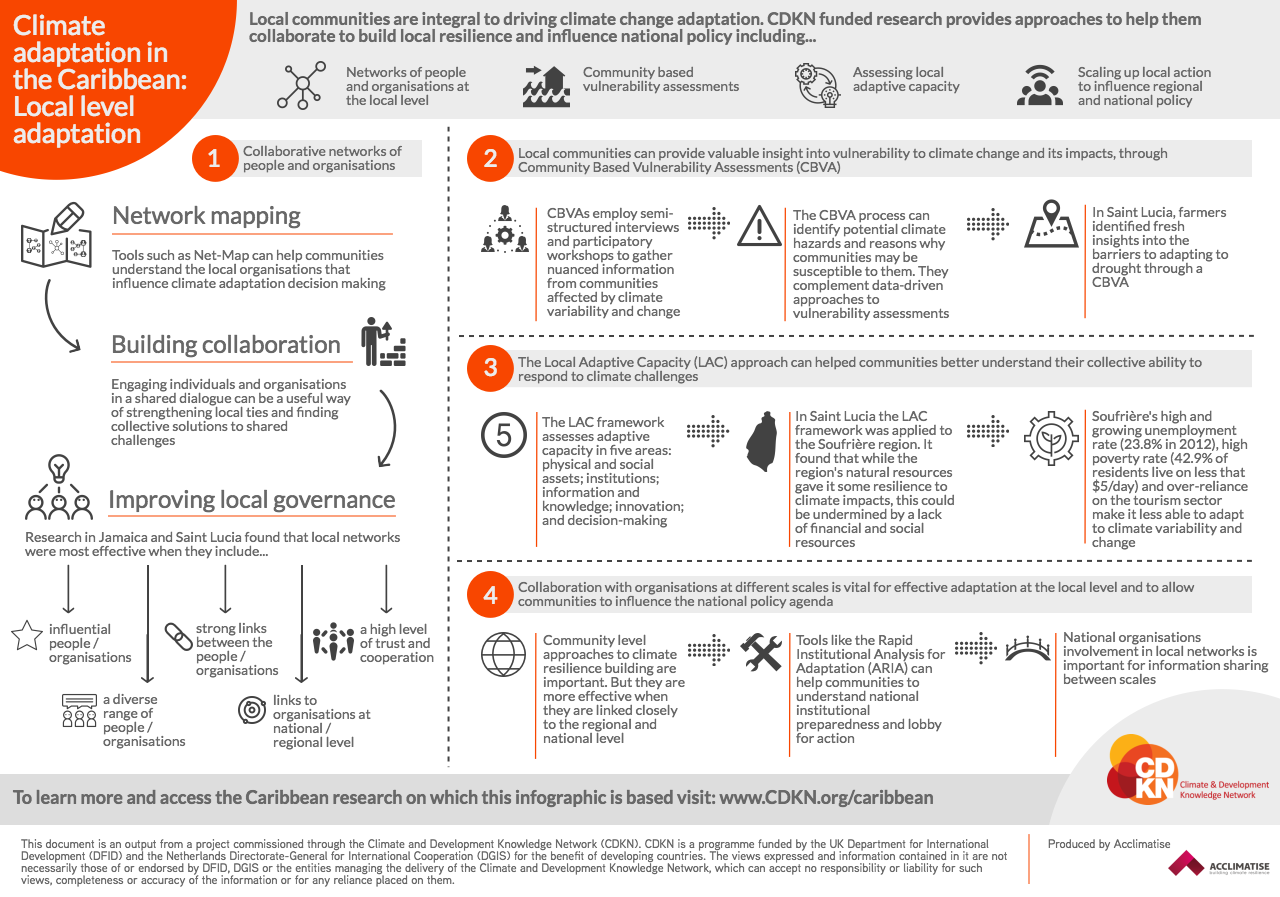 This infographic highlights the main approaches to community-based adaptation that have been employed in the Caribbean.[/caption]
About this knowledge package
This knowledge package is based on a decade of CDKN-funded research in the Caribbean. It highlights how communities can build local governance networks to collectively understand their climate vulnerability and adaptive capacity. Ultimately it provides the tools to empower communities to build climate resilience and influence national policy making.
The key findings from the knowledge package include:
Adapting to climate change is, to a large extent, a local process. Effective solutions to climate challenges should be sensitive to local context.
Multi-stakeholder, multi-level governance approaches are increasingly recognised as best practice for local adaptation.
Local networks of stakeholders can be analysed and shaped to maximise their effectiveness for dealing with external shocks like those from climate impacts.
Community-based approaches to understanding local vulnerability and adaptive capacity can provide useful insight for climate resilience building.
Such approaches also stimulate conversation at the local level, raising awareness and understanding of climate change.
Local level approaches are not effective in isolation, and require good links with regional and national government to maximise their impact.
CDKN funded research offers tools and methods for analysing networks, assessing vulnerability and scaling up local action.
Picture: caribbeancables
Save
Comments