Ecosystem-based approaches for just climate action in African cities: Seven takeaways from Africa Climate Week
Ecosystem-based approaches for just climate action in African cities: Seven takeaways from Africa Climate Week
Share this:
Story detail:
CDKN, ICLEI Africa, PlanAdapt and World Resources Institute colleagues reflect on a recent session held at Africa Climate Week that focused on the importance of equitable ecosystem-based approaches as a means to address climate challenges. Several nature-based solution pathways for action are highlighted that have the greatest potential for driving change in African cities.
The window of opportunity for averting climate induced impacts is rapidly closing, but despite this outlook, Africa is uniquely placed to act swiftly with the appropriate support from global to local scales. Africa still has extremely valuable and intact ecosystems that have co-evolved with people over millennia to provide numerous benefits that contribute to resilience.
There is a recognition that African cities and urban areas are growing rapidly and that by 2050 they will be home to over one billion people. Rapid urbanisation, coupled with poverty and inequality, limit planning capacities, while urban dynamics increase people's exposure and vulnerability to hazards. Consequently, cities across the continent have seen an increase in disaster-related incidents. This calls for meaningful change where locally designed, adaptive, collaborative and contextualised initiatives are prioritised. Through examples in this Africa Climate Week side event, five speakers outlined several nature-based solution pathways for action that have the greatest potential for catalysing change in African cities.
CDKN, together with partners ICLEI Africa, World Resources Institute and PlanAdapt, held a session that promoted dialogue between thought leaders, practitioners, activists and community organisers. The session highlighted the importance of human-centred and human rights approaches to nature-based solutions as a means to address climate challenges. Additionally, the session explored innovative strategies that empower communities, protect vulnerable populations and ensure that the benefits of climate resilience are shared more equitably. Key action areas that surfaced during the event are highlighted below.
The need for partnerships
Jessica Troni, head of the Climate Change Adaptation Unit at the United Nations Environment Programme (UNEP), provided the opening remarks and reminded the audience that given that cities in Africa are growing rapidly, with expected urban populations to double, cites are agents for change. In addition, 70% of climate solutions are located within the boundaries of subnational authorities and the longer cities wait to adapt, the more it will cost. Jessica highlighted the critical need for partnerships to ensure this change happens. 
Creating and strengthening communities of practice
Sumetee Pahwa Gajjar, Senior Researcher from PlanAdapt, spoke about the importance of creating communities of practice to combine efforts and work together in more coordinated and impactful ways. Communities of practice are groups of people who share a common concern or passion and learn how to pursue it better through regular interactions. Such platforms are critical as part of capacity strengthening efforts for research programmes such as CLARE, bringing together researchers, practitioners, community members and policy actors to address and find solutions for climate change impacts, particularly in urban areas. For example, the Climate Co-Adaptation Lab is a transdisciplinary community of adaptation knowledge and innovation brokers following principles of equality, co-production and innovation.
Human rights approaches - that integrate gender rights - are key
Bongiwe Simka, Professional Officer – Urban Nature and Nature-based Solutions, ICLEI Africa, highlighted the importance of a people centred approach to advancing gender, equity and social inclusion in nature-based solutions in African cities: 
'People are at the centre of everything, including nature-based solutions. Having a people-centred approach to address climate challenges is essential and means being intentional and bringing everyone along when we're coming up with solutions.'
Bongiwe added that we must be intentional about who we invite into these spaces, recognising who is in the room and who is missing.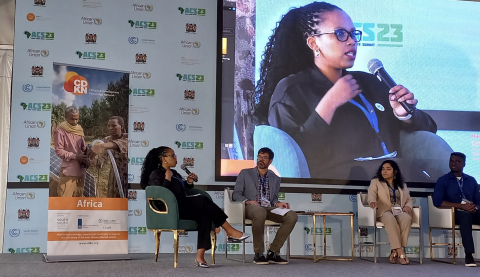 More scaled up finance is essential
Rory Hunter, Nature-based Solutions (NbS) Africa Manager – Cities4Forests and WRI Natural Infrastructure Initiative, spoke about how more finance can be mobilised and scaled for urban NbS and how this can bring city governments, the private sector and vulnerable communities together to build climate resilience.
'We need to scale up financing of EbA in African cities to address urban heat and flooding and long-term monitoring to capture broader impacts of NbS, such as social and biodiversity benefits.'
Rory added that there is still not enough financing set aside for long term monitoring of NbS, especially as project financing is typically not much longer than two or three years. Monitoring and maintaining NbS is an opportunity to create green jobs and ensure that NbS can mitigate climate risks effectively.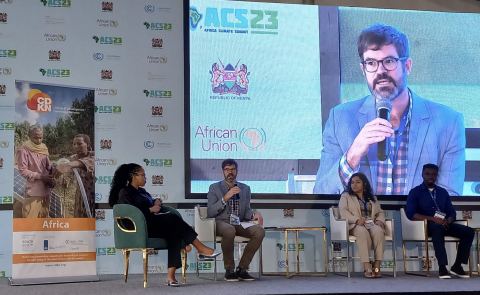 Getting young people involved
Over the week of the ACW and Africa Climate Summit we heard a lot about the importance of engaging with youth in all sectors for mobilising climate action. Given that the future is predicted to be made up of young people living in African cities, Prince Ansah, CDKN Ghana Country Engagement Lead, shared insights on the role that youth can play in catalysing equitable EbA in African cities: 
'In Ghana, we are engaging with young people and encouraging the use of technology and nature-based solutions to find locally relevant solutions for climate change impacts, such as flooding.' 
Learning from other countries in the region
Simon Thuo, from Alliance for Global Water Adaptation (AGWA), shared some reflections on how AGWA, a global community of practice that promotes EbA co-benefits, has used water as an entry point for motivating urban climate resilience. Simon provided an example that: 
'Egypt is one of the most efficient water users in Africa. Every drop of water is recycled at least twice. This provides a great example of efficient water usage.'
Somalia and Egypt have utilised the AGWA-developed Water Tracker to identify economy-wide sectoral demands for water. These demands include urban development, agriculture, energy and mitigation efforts, as well as addressing issues such as coastal erosion, salt water intrusion and making robust decisions in crises and deep uncertainty. 
The importance of knowledge brokering
Fatema Rajabali, CDKN Africa Manager, highlighted the importance of knowledge brokering to advance just and equitable EbA for building resilience in African cities:
'People in cities all over the world, but especially in Africa, are increasingly experiencing climate change most immediately and urgently through extreme events and associated disasters linked to droughts, extreme heat, floods and fires. By engaging in discussions, interactive activities, listening to inspiring case studies and support peer-to-peer exchanges, we can develop valuable insights into how ecosystem-based approaches can address the intersecting challenges of climate change, social inequity and environmental degradation in cities'
Reflections from the discussions
The event highlighted the critical significance of nature-based solutions in advancing just and equitable climate resilience within African cities. Exploring sustainable and inclusive strategies that foster resilience while simultaneously advancing social justice and equity is crucial since climate change disproportionately affects marginalised communities. 
The session has enabled CDKN to establish new partnerships, which will foster future dialogues and catalyse transformative change towards just and equitable climate resilience in African cities. CDKN will carry the messages from this session into other regional and global engagements including the EbA Knowledge Day, the Global Landscapes Forum and COP28. 
Read more about CDKN's involvement at Africa Climate Week here.
If you would like to join us in our efforts or find out more, write to us at cdkn@southsouthnorth.org.  
Comments