13
Aug
Description:
CDKN Asia is pleased to invite you to a webinar on "Gender-Responsive Climate Resilience in the Context of COVID-19," to be held on August 13, 2020, from 3.30 to 5 pm. In this session, expert speakers will discuss the challenges faced and overcome by women in a pandemic and learnings therefrom which can be used in the context of climate action.
Moderator:
Dr. Shehnaaz Moosa, Director, CDKN Programme, South South North (SSN)
Speakers:
Mrs. Kalyani Raj, Member-in-charge, Environment and Climate, AIWC
Ms. Rachana Upadhyaya, Research Fellow, Southasia Institute of Advanced Studies (SIAS), Kathmandu
Ms. Shaila Shahid, Senior Advisor-Climate Change, DRR & Gender, ICCCAD
Dr. Kamala Gurung, Gender and Natural Resource Management Specialist, Livelihoods, ICIMOD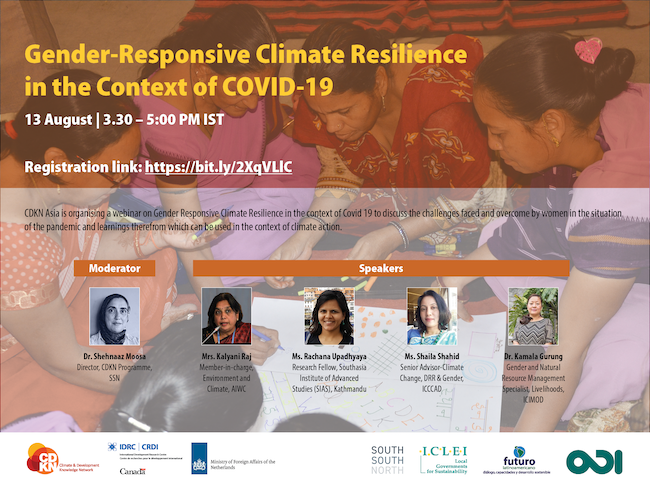 We look forward to your participation!