01
Oct
Join us this Thursday, October 1st for the first Paris Committee on Capacity Building Network 'Recovering better together' webinar! CDKN, GIZ and the World Resources Institute have collaborated in the organisation of this webinar under the banner of the Paris Committee on Capacity Building Network
Time: 15:00 – 16:30 CET
Webcast: Webcast link
Background
The COVID-19 outbreak had impacts that have been widely experienced to varying degrees, around the world, across sectors, and among different groups. In many of these cases, they have added a layer of distress on top of previously existing crises, thereby jeopardizing the stability of social and economic circumstances, particularly for the most vulnerable. On a brighter side, this crisis has also brought to light encouraging stories of resilience, solidarity, and leadership among local communities, businesses, networks, cities, and nations.
The UNFCCC and PCCB, and members of the PCCB Network, are determined to do their bit by keeping the momentum going and encourage all climate actors collaborating in capacity building efforts to join this endeavor.
Speakers:
Marzena Chodor (PCCB Co-chair)
Yamide Dagnet (Director, Climate Negotiations at WRI)
Anna Schreyoegg (Head of Programme at GIZ)
Michelle du Toit (Programme manager at CDKN)
Robi Redda (Country Engagement Lead for CDKN, Ethiopia)
Agripina Jenjins Rojas (Advisor to the Climate Change Directorate, Costa Rica)
Mizan R. Khan (Programme Director, LUCCC, Bangladesh)
Noriko Tamiya-Hase ( Deputy Director, Office of Market Mechanisms. Ministry of the environment, Japan)
Juliet Meredith (Representative of the UK COP26 Presidency)
Roberta Ianna (Representative of Italy, host of the Pre-COP Summit, PCCB members)
Moderators:
Crispin d'Auvergne (PCCB member)
Jeniffer Hanna (PCCB member)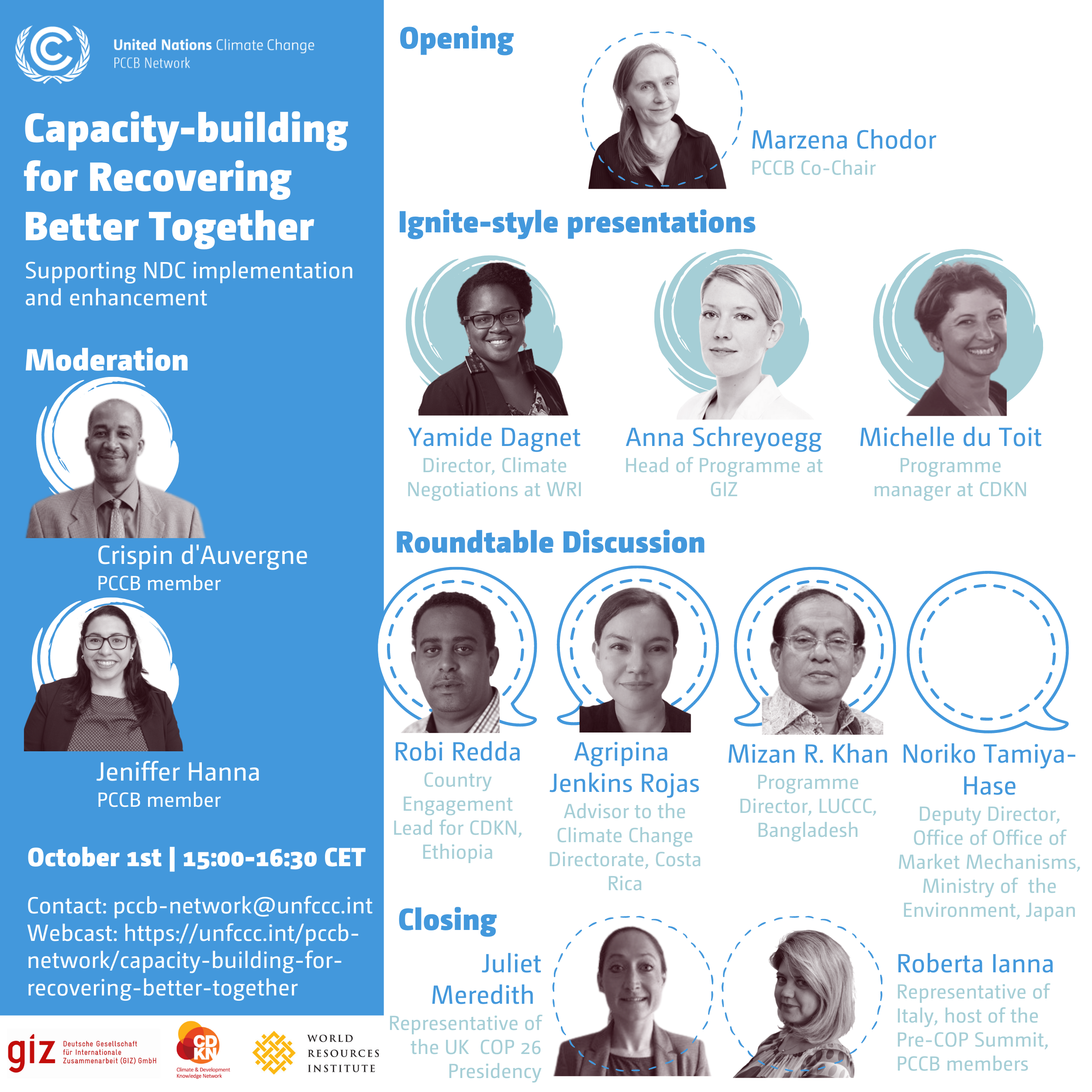 We look forward to your participation!