CDKN Innovation Fund Round 1 – completed
The CDKN Innovation Fund will support and promote innovative thinking and innovative action on climate change and development issues, with several application rounds in 2011 and 2012.
Click here to view Innovation Fund projects we are currently supporting.
The Fund is flexible, in order to catalyse a range of different project types, scales of operation and projects in different stages of development. Its staged process allows applicants to apply for support within different stages of the innovation cycle.
The Innovation Fund has two stages:
Stage 1 provides support for organisations/partnerships in designing and developing innovative projects on climate compatible development. This will be supported through an innovation process, and the outcomes of this process will include a project proposal.
Stage 2 focuses on innovative research projects, and provides funding for organisations/partnerships to implement (a) research projects that emerge from Stage 1, and (b) 'fast-track' research proposals, which do not need support offered through Stage 1.
Applicants can either apply for Stage 1 (Innovation Process), with the potential to go through to Stage 2 on completion, or apply to be fast-tracked to Stage 2 (Research Projects only).  A summary of the different application routes is provided in the diagram below.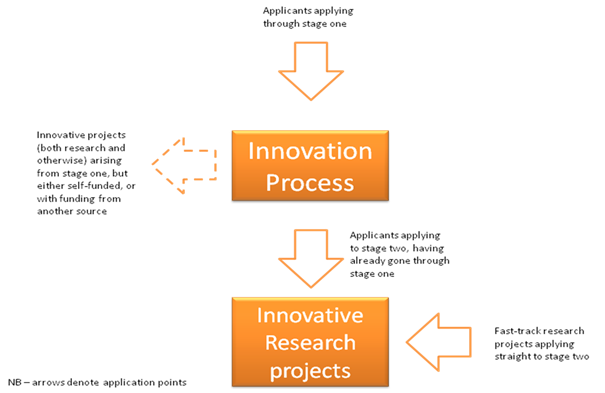 The overall budget of this funding round is around £1.1 million, and applications are invited on the following themes:
Climate compatible development strategies and plans
Improving developing countries' access to climate finance
Strengthening resilience through climate-related disaster risk management