Delhi Sustainable Development Summit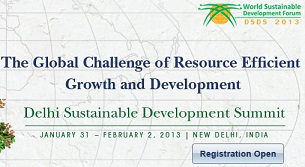 TERI's Delhi Sustainable DevelopmentThe concept of sustainable development was introduced in the World Conservation Strategy (IUCN 1980) and had its roots in the concept of a sustainable society and in the management of renewable resources. Adopted by the WCED in 1987 and by the Rio Conference in 1992 as a process of change in ... Summit (DSDS), organized annually since 2001, is an international platform for exchange of knowledge on all nuances of sustainable development. Over the past twelve years, it has emerged as one of the most leading forums on issues of global sustainabilityIn order to survive, all life, including human life, depends either directly or indirectly on the natural environment. Sustainability is a principle where current requirements are met while the livelihoods of future generations are not threatened.. The Summit witnesses the attendance of various heads of State and Governments, thought leaders, policy makers and the crème de la crème of industry and academia who come together to deliberate on myriad issues. Until date, a total of 33 Heads of State and ministers from over 43 countries have registered their presence at the Summit.
The debates at the 13th edition of the Delhi Sustainable Development Summit will help further the resolutions of the Rio+20 Conference delineated in the document entitled – 'The Future We Want' which desires inclusive and equitable economic growthIdeally, economic growth is decoupled from energy consumption. This can be achieved through different measures, one of them being energy efficiency or a shift towards less energy intensive sectors, such as services., greater opportunities and reduction of inequalities across the globe.
DSDS 2013 plenaries will revolve around the sub-themes of:
Adapting to the impacts of climate change
Mitigating emissions of greenhouse gases and associated co-benefits
Employment and growth potential of a green economy
Choices before the BRICS and a new economic construct
Sustainable development and the new knowledge economy
Defining the future we want
For more information, and to register, visit http://dsds.teriin.org/2013/