REPORT: Imagining the Future Framework of Disaster Risk Reduction – Presenting a New Guide for Decision-Makers
With debates underway about the successor agreement to the Hyogo Framework for Action (HFA2) on disaster risk reduction, Tom Mitchell and Jan Kellett of Overseas Development Institute introduce a new Guide for Decision Makers to inform the new agreement.
In just 9 months, governments will gather in Sendai, Japan to negotiate a new global agreement to tackle the growing threat of disasters. The location is iconic – the city heavily damaged by the 2011 Magnitude 9 Great East Japan Earthquake and subsequent tsunami, will play host to the 3rd UN World Conference on Disaster Reduction, almost 4 years to the day after disaster struck. The global consultation process on what should be in the new agreement has now reached a breathless phase, with regional platforms on disaster risk reduction (DRR) held in Africa, Latin America and the Pacific in the last month alone, with Asia, Europe and Arab States coming soon. The first preparatory committee meeting of the conference will be held in Geneva in four weeks' time, where the process of drafting a new agreement starts in earnest.
While the existing Hyogo Framework for Action (HFA) – the 2005 10-year global plan to reduce disaster risk – will guide governments, many have also called for significant revisions or new priorities to be featured. It is also clear that while some negotiators will be veterans of the last World Conference in Hyogo, Japan in 2005, many will be quite new to the process and potentially to the issue as well. Our recent discussions with different governments have revealed a real demand for clear guidance on the key issues for consideration in the new agreement.
We have responded by assembling a Guide for Decision-Makers to the Future Framework for DRR. It is designed to help those contributing to the new agreement by collating evidence and recommendations around seven core 'modules' or dimensions up for discussion – click on each module to download it:
Each module contains (i) a set of key messages, (ii) evidence of why it is important in the form of infographics, (iii) our recommendations, (iv) details of how the issue was featured in HFA, (v) what has been said about it in the key consultation documents released so far and (vi) key readings. The guide is intended as a living document that can be added to, changed, and improved (a beta version). We are already planning further modules, including around 'accountability and transparency', and are ready to respond to further demands as they arise.
Key to the success of the future framework is situating the process of reducing disaster risk firmly within sustainable development, with every aspect of its articulation and implementation focused on supporting and improving development. It is through development processes that the reduction of risks are maximised and the creation of new risks are minimised. Accordingly, we recommend the agreement has three interlocking gears – inclusive risk governance, resilient development and managing resilient risk – underpinned by seven building blocks.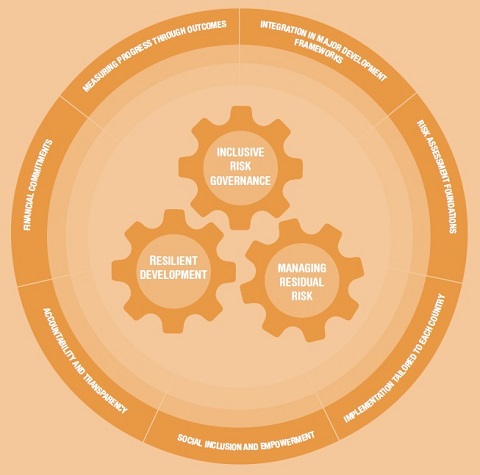 The new framework offers a significant opportunity to accelerate the progress made in the last 10 years, and to build on the strengths and address the weaknesses of the HFA. The successor to the framework should be a key implementation and operational guide for delivering on targets and commitments in other major international agreements due in 2015, climate change and sustainable development goals, and as an important bridge between the two frameworks. Only then will DRR have genuinely arrived as a pivotal approach for poverty reduction, shared progress and long-term economic growth.
If you would like more information or to make suggestions about the content of guide, please e-mail Tom Mitchell.
Image: Dominican Republic is hit by Hurricane Sandy, courtesy of Oxfam.